I've noticed there's a lot of chain restaurants filling up grocery store freezer cases with their wares lately.  In a recent grocery store musing, I pulled a few boxes out of their frozen entombment and attempted to read the "ingredients" (what's disodium phosphate and what's it doing in my food?) and shook my head in disbelief. Just then a woman walked right up next to me, grabbed 2 boxes of barbequed chicken wings, "I've got 2 coupons!" she said excitedly.  Even if the price was free, she was buying essentially frozen commissary food with little to no nutrition. Without coupons, this stuff costs a small fortune, but that's not the true cost; it's the cost to her family's health that's the kicker.
I'm not here to do a guilt throw down and make you feel bad; I'm here to remind you that you can make homemade food faster than you think, it's way cheaper (yes, even with coupons!) and you're in control of every single ingredient, not to mention the sodium content.
And that's the bottom line; homemade cooking keeps you healthy because you control the ingredients. Think of it this way: if you can control hormones that go into your family's protein choice, pesticides on your children's veggies and the chemical additives, flavor enhancers (many of which are excitotoxins which greatly affect the brain) and artificial colorings, would you intentionally CHOOSE any of them to eat? When you pick up a box and read the ingredients, are you looking for all those chemical extras or the lack of them?
Not all prepared foods are evil; it's just a matter of habitually reading labels (stick with ingredients you can readily identify and pronounce) and be very discerning. By combining the best of homemade and prepared foods you can come up with a lot of homemade dishes that are healthy, cost less and taste even better than a restaurant; no coupons required!
I promise you, I'm not suggesting you go out and butcher a hog or lose the store bought bread. But given a choice when it comes to health, price, and taste, homemade is always going to come out on top.
Below is a homemade barbeque sauce recipe using canned tomatoes and some prepared ingredients. I've been pretty disheartened over the state of commercial barbeque sauce's ingredients, especially the high fructose corn syrup (in spite of the fact that the Corn Refiners Association keeps contacting me about my negative views of HFCS) so this recipe will get you the taste you want without the sugar bombs going off. Let's get the barby fired up!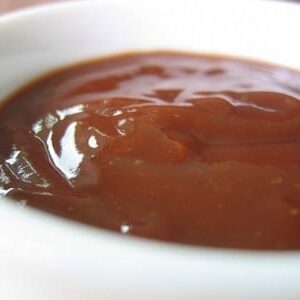 Homemade Barbeque Sauce
Ingredients
1/2

cup

tomato sauce

1

cup

apple juice

1/4

cup

apple cider vinegar

1/4

cup

brown sugar

packed

4

tablespoons

Worcestershire Sauce

1

teaspoon

garlic powder

1

teaspoon

hot sauce

can adjust to taste or omit

1

cup

sweet onion

chopped

2

tablespoons

butter
Instructions
Cook onion in melted butter until clear, slowly stir in liquid ingredients, adding dry at the end. Bring to a boil for about 15 minutes, stirring continuously. Use in place of any BBQ sauce.
Notes
Substitutions: Tomato sauce can be replaced with homemade catsup, bottled ketchup, or for a real kick chili sauce. The hot sauce can be any type you want, Asian hot chili sauce, Tabasco, Chipotle, whatever you like.