'Tis the season for visions of candy canes and sugar plums and chestnuts roasting on an open fire. But how many of us have actually roasted chestnuts? Have you ever eaten a chestnut?
Many cultures enjoy chestnuts as a valued source of nutrition. Chestnuts have been harvested for centuries in Japan, China, Korea, Europe, and the Mediterranean. Greeks put chestnuts above almonds, walnuts, and hazelnuts in terms of quality. So, why don't we eat more chestnuts here in North America?
Chestnuts can be roasted (but please use an oven-it's safer than an open fire) or cooked in soups and stews.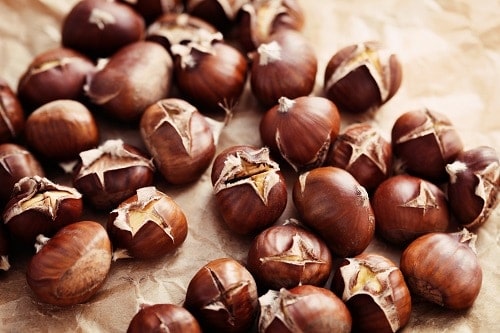 So, what's so great about chestnuts?
Fiber. There is more fiber in a serving of chestnuts (3 grams per 100-gram serving) than there is in a serving of walnuts, pecans, or pistachios.
Fatty acids. Chestnuts are full of linoleic acid and other essential fatty acids like palmitic and oleic acid, which are great for heart health.
Nutrients. Chestnuts contain potassium, magnesium, copper, and high levels of Vitamin C. They also have lots of amino acids and antioxidants.
Chestnuts aren't only nutritious, but they also have a pleasant taste.
So, how do you eat chestnuts?
Well. First, you take your chestnuts and cut an X on the flat side with a very sharp paring knife.
When the nuts are all scored with their X, pop them on a baking sheet and roast for 15-20 minutes in a 425-degree oven. This will make the X open a bit and the skins will peel easily off of your chestnuts. At this point, you can use them in soups or side dishes, but if you want to actually roast the chestnuts, keep them in the oven for another 20 minutes.
Peel the chestnuts while they're still warm. Once they cool, the skins are difficult to remove.
I like chestnuts sautéed with Brussels sprouts and bacon. Mmmm!
While they do contain lots of nutrients, chestnuts are pretty starchy. They're actually used in many cultures more as a vegetable (think potato substitute), so use them sparingly.
Do you enjoy eating chestnuts?
——————————-
PS–Safeguard your body's nutrient needs against the brutal assault of holiday madness, with Just Juiced Veggies!  I like to call a daily scoop of Just Juiced Veggies, my holiday health insurance!  And you can get yours right now and pay no shipping!  Click here to get your holiday health insurance