Can you feel the crispness in the fall air? The leaves are changing. The nights are colder. It's sweater weather. It's harvest time. I love this time of year. It's finally cool enough to do some serious cooking without worrying about heating up your kitchen and the abundance of fresh fruits and vegetables has never been better.
Let's focus a bit on those fruits. Although they are great to eat just as Mother Nature created them, there are lots we can do to add some kick to our traditional meals as well. Have you ever tried chicken with apricots? How about pork chops with honey and apples? And adding an assortment of berries when roasting meats is simply divine!
Try baking up some of those apples. Just remove the core then add some raisins, a little honey, and cinnamon in the empty space. Bake for thirty minutes at 350 degrees. YUM! And just think of all the calories you just saved yourself by skipping the traditional apple pie (save that for Thanksgiving).
Another fun way to serve up your fruitful bounty is in a Fall Fruit Salad. I've included a recipe for you below but feel free to get creative with this one. Add or subtract fruits to your heart's content. For a flavor that is more tart try adding some dried cranberries. You can add some extra crunch with a few almonds or even chopped celery. There's no limit to the fun you can have with your fall fruit.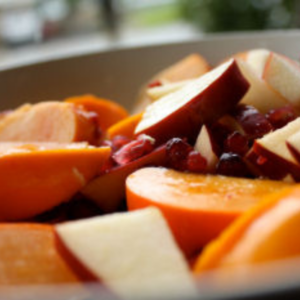 Fall Fruit Salad
Ingredients
1

apple

diced

1

pear

diced

1

peach

diced

1/2

cup

green seedless grapes

1

cup

low fat lemon yogurt

1/2

cup

chopped walnuts
Instructions
In a large bowl, combine the apple, pear, peach and grapes.

Toss with yogurt and chill.

Stir in the walnuts just before serving so the walnuts will maintain their crunch. You can also garnish this with mint if desired.
Subscribe to Dinner Answers today for more delicious recipes!