Green beans are a real crowd-pleasing vegetable. With a mild, sweet flavor and a completely portable and edible design, green beans make a great on-the-go snack for kids, and they can also add some real visual interest to a vegetable tray.
But there's more to this slender green veggie than looks alone!
Green beans are an excellent source of antioxidants, including beta-carotene, zeaxanthin, and lutein. Green beans are high in Vitamin A, Vitamin C, Vitamin K, folate, potassium, manganese, and fiber.
One of the ultimate ways to enjoy green beans for a special occasion like Thanksgiving Dinner is with your classic green bean casserole. But the problem with most green bean casserole recipes is that they involve canned soup.
I can not stand canned soups in casseroles. I also can't stand canned green beans. Yuck.
This Thanksgiving, I hope you'll still enjoy green bean casserole, but in a new way—with a recipe I've perfected over the past few years.
Now, be forewarned. This is not an everyday vegetable dish and it is certainly not a 100% Paleo-friendly recipe. But, hey, Thanksgiving comes around once a year, and sometimes we have to bend the rules a bit in the name of tradition.
Yes, this recipe includes those canned fried onion rings because, in my opinion, you can't have a proper green bean casserole without them!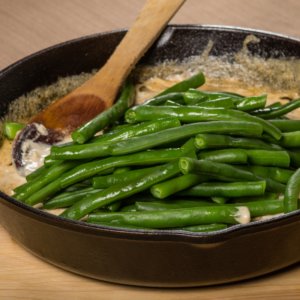 The Perfect Green Bean Casserole
Ingredients
Topping
1

large can

fried onion rings

(or fry a couple of thinly sliced shallots!)

1/4

cup

Italian blend cheeses

(mine had Romano Parmesan and Asiago)
The Casserole Itself
2

pounds

frozen skinny green beans or use fresh

I used Trader Joe's delicious frozen haricot verts

4

tablespoons

butter

divided in half (Always use unsalted butter)

1

splash

melted coconut oil

1

pound

wild mushrooms

sliced (Use whatever you can find at the grocery store)

3

cloves

garlic

pressed

Salt and pepper

to taste

3

tablespoons

flour

Use whatever flour you like

4

tablespoons

Italian blend cheeses

same as topping cheese

3/4

cup

chicken broth

or use homemade bone broth

1/4

cup

white wine

I used a chardonnay

2

cups

cream

half and half works fine
Instructions
Preheat oven to 400 degrees.

To make the topping, blend the onions and cheese together in a small bowl; set aside.

Place the green beans in a large mixing bowl. If you are using frozen beans, just put them in frozen. If you are using fresh, make sure you have steamed them to a tender crisp doneness and cooled them a bit before putting them in the bowl.

In a large skillet over a medium–high heat, add the butter and touch of oil (the oil keeps the butter from burning). Add the mushrooms, garlic, salt and pepper, and cook until mushrooms are done. It'll take about 5 minutes. Turn down the heat, if necessary, and keep the mushrooms moving periodically. Remove the mushrooms from the heat and set aside.

Now add the remaining butter to the pan and add the broth and wine, bringing it to a simmer. In the meantime, toss the cheese with the flour. Add this cheese mixture to the simmering broth, whisking together until well blended. As the sauce starts to thicken, slowly add the cream, whisking all the while. Allow to simmer about 10 minutes on low. Be careful—too hard a boil and the sauce will separate.

Now throw the sauce over the green beans and mix with mushrooms, and toss together to blend. Place the sauced-up beans in a 9-inch by 13-inch baking dish. Sprinkle with your topping and place in the middle of your preheated oven, cooking for about 15 minutes or until all is nice and hot and beans are thoroughly cooked through.
Looking for more Thanksgiving inspiration? Download my free Thanksgiving menu, complete with recipes, timeline, and turkey triage guide.  Available in Classic, Paleo, and Keto!