Everyone's concerned about watching the grocery budget these days, and rightly so! Food costs are climbing, and there's no sign of this trend stopping anytime soon.
I'm often met with resistance when I talk about eating nutritious foods (especially as part of a Paleo lifestyle) because people claim they can't afford to eat healthy.
To be honest, it can seem expensive at first, especially if you're looking at the $15 package of chicken breasts when you know you can buy a frozen lasagna for $5 that will easily feed your family of four.
I could sit here all day and tell you that eating a healthy diet will pay for itself in spades in the long run, but the fact is, we only have so much money to spend on food.
So, the following tips will help you stretch your grocery budget, even if you're a Paleoista.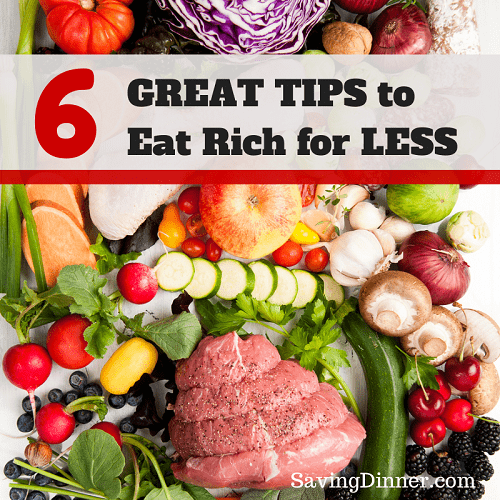 Purchase ingredients and not packages. Stop looking for the healthiest granola bars or gluten-free brownies on the shelf. Instead, buy ingredients to make your own healthy snacks (Blending a banana and some Medjool dates tastes like a homemade Larabar!). Or, even better, eat nature's own snack foods by eating whole foods like apples, berries and seeds. Same thing goes for foods like almond flour—if it comes in a bag, there's a chance you can make your own. If you have a good food processor, buy some natural almonds in bulk and ground them into flour. If it's a really good machine, you can make your own almond butter and almond milk, too! Make your own condiments. If you aren't Paleo but want to eat healthier buy organic corn kernels for your weekly movie night. Purchase dried beans instead of canned, and cook them yourself.  See where I'm going with this? Stop looking for convenience because convenience is expensive, y'all!
Buy frozen fruits and veggies in bulk. Frozen produce is just as nutritious as fresh, and it's much more affordable to purchase frozen than it is fresh. I always suggest people buy enough fresh produce like lettuce, asparagus, broccoli and zucchini to use at the beginning of the week, and then have frozen on hand for the last part of the week. This stretches the budget a bit and allows for less food spoilage.
Rethink your meat purchases. Protein is expensive, but there are ways to save money in the meat department. Buy whole chickens, and cut them into pieces yourself rather than buying the more expensive chicken pieces where the work has been done for you. When it comes to beef, choose less expensive cuts and learn how to cook them properly. Those cheap cuts can be the tastiest if you cook them low and slow by braising or stewing them.
An even better way to save on meat costs is to get together with some neighbors and see about sharing the cost of a whole cow or pig to put in your freezers. It seems like an expensive purchase up front, but it will pay for itself over the course of 6 months or so!
Know what needs to be bought organic. Shop according to the Dirty Dozen and Clean Fifteen to ensure you're eliminating the greatest amount of pesticides from your diet without going broke to do so. You can see an updated list at ewg.org, where you'll learn that potatoes and apples should always be purchased organic (so if your budget doesn't allow for those items, buy conventionally grown sweet potatoes and mangoes instead).
Stop splurging. Look for unnecessary items in your cart and remove them! You don't really need to spend $4 on bottled water. You also don't need those individual coffee pods. Take a good look at your home and see which nonessential items you are wasting your money on (this includes junk food and "treats").
Stick to the list! Make a meal plan at the beginning of each week and make your shopping list according to that plan. At the store, stick to the list. Being prepared like this, having a list that corresponds to the meals you need to make for dinner each day, also prevents trips to the grocery store throughout the week to pick up a missing ingredient.
Thousands of people depend on our Dinner Answers program to do this work for them, and I believe the low monthly subscription rate pays for itself in the first week when you don't have to run to the store for anything! With Dinner Answers, you know what meals you're making every evening, and you get a shopping list to take with you to the store. It saves time and money! Oh, and because the meals have been developed by a nutritionist (yours truly), you know they're healthy AND delicious.