Have you ever found yourself staring longingly at those pretty little pumpkin-colored fruits at the grocery store, wondering whether you would enjoy a persimmon enough to take one home with you?
Well, I challenge you to go ahead and add a few to your basket because these little fruits are juicy and delicious, and they're very good for you too!
While they resemble tomatoes, persimmons aren't really anything like a tomato in taste. Actually, they're closer to an apple than anything else.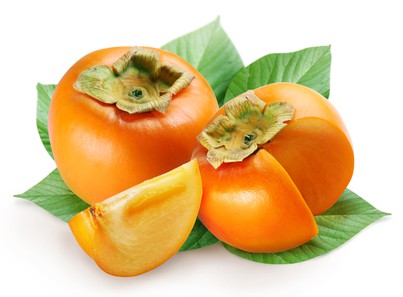 The persimmon originated in China and eventually spread to Japan. By the middle of the nineteenth century, persimmons were being enjoyed by Californians as well.
Rich in dietary fiber, high in Vitamin C, betacarotene, B vitamins, potassium, manganese and copper, but low in calories, a persimmon makes a great morning snack.
Persimmons are sweet and can be enjoyed right out of the palm of your hand, but they're also tasty in savory dishes (they're fabulous in soup) and in desserts.
Have I convinced you to pick up some of these sweet oriental fruits on your next trip to the market? If so, you'll want to keep reading!
It's time for your Trick:
If you bring home persimmons that aren't quite ripe, put them in a brown paper bag to ripen.
Your Tip:
You want to eat persimmons when they are perfectly ripe. If they aren't quite there yet, they'll taste bitter. They're ripe when they are deep orange in color and when the flesh of the fruit gives a little bit when it's pressed.
And your Recipe: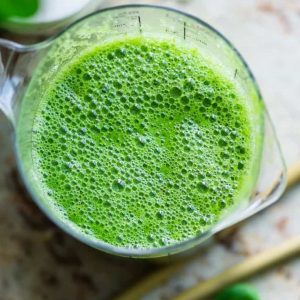 Mango Spinach Persimmon Smoothie
Ingredients
2

mangos

peeled and chopped

1

banana

peeled and broken into chunks

1

persimmon

peeled

2

cups

firmly-packed spinach leaves

1

scoop

protein powder

or serving size suggested on the container
Instructions
In a blender, process all ingredients until smooth, adding a little water if necessary.
Notes
NUTRITION per serving: 271 Calories; 2g Fat; 14g Protein; 56g Carbohydrate; 7g Dietary Fiber; 33mg Cholesterol; 56mg Sodium. Exchanges: 0 Vegetable; 3 1/2 Fruit. Points: 7
Looking for more delicious recipes like this one? Check out our Dinner Answers program today!