Spring is officially here and so the great thaw begins.
One of the best ways to start off Spring in earnest is to hit your nearest farmer's market. This is the place where you can buy good, locally grown veggies and see what's in season.
With few exceptions, this stuff is less expensive than your grocery store. Not only that but some farmer's markets feature a lot of organic produce that you can get for a good price. If not, the local farmers usually don't use as many pesticides and again, most often you will find a great deal, plus probably get into a fun conversation about what you're buying, where it's grown, and the weather.
Farmer's markets are a wonderful way to support your local community, learn more about locally grown stuff, educate your children about healthy eating and how their food is grown, and maybe even buy some locally produced honey, eggs, homemade breads, and pies. At my farmer's market in Matthews, NC, they even have music, local chef's cooking, and huge bouquets of fresh flowers. I'd rather be at a farmer's market than in a mall, that's for sure.
See what your town offers and then seek it out. I'm going to bet you'll pick up a little local flavor and a whole lot of healthy stuff at your local farmer's market just like I do. Enjoy yourself and while you're at it, say hi for me and give them a hug. I love local farmers!
Here's a delicious recipe you can make once you get home from the farmer's market—if you're lucky enough to grab some local cauliflower: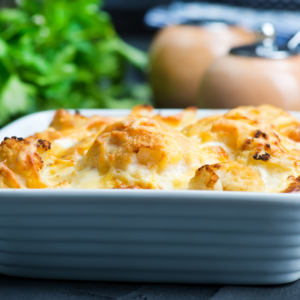 Leanne's Baked Cauliflower
Ingredients
1

head

cauliflower steamed

1

tablespoon

butter

1

tablespoon

Dijon mustard

1

cup

low fat shredded cheddar cheese
Instructions
Preheat oven to 375 degrees.

Place steamed cauliflower in an 8 x 8 baking dish. Rub butter over the top, rub the mustard over the top, sprinkle cheese on the top. Place cauliflower in the oven for about 10 minutes or cheese is hot and bubbly.