There's a very special vegetable that is about as seasonal as plants get-fiddleheads. Popular in mid-spring across the Eastern United States and Canada, these young, coiled ferns are indeed a seasonal delicacy. You won't find fiddleheads at any other time of the year because fiddleheads are harvested from young fern plants and these ferns only pop up once a year. If you come across fiddleheads at your local farmers' market, I suggest you snatch them up because they are so delicious and so good for you. And let's be honest–they are quite a novelty on the dinner plate!
Fiddleheads get their name from their appearance. They look just like the curly end of a fiddle! If your kids love eating fun foods, they will love munching on fiddleheads.
These special green veggies contain all kinds of antioxidants and minerals. Check out the following goodies found in a serving of fiddleheads:
• iron
• omega-3 fatty acids
• protein
• vitamins A & C
• riboflavin
• calcium
• copper
• niacin
• magnesium
• potassium
• phosphorus
Fiddleheads taste a little bit like asparagus. They have a chewy texture and they taste very mild.
While it might be tempting to toss these pretty green spirals into a salad, they really should be cooked before eating because there's a chance your fiddleheads will have an unfavorable micro-flora on them. Boiling or steaming them will take care of any issues that might make you sick.
After they're cooked, fiddleheads are amazing tossed into a pasta dish (better yet, cook them with your pasta noodles in the same water to save some time), a quiche, or a frittata. They're also delicious on their own as a side dish. Try them smothered in butter and nutritional yeast. Yum!
Now it's time for your Trick!
Eat your fiddleheads within two weeks of them being harvested. Be sure to clean your fiddleheads very well when you get them home. Wash them in cold water and be sure to remove any papery bits from them. To boil fiddleheads, they should be kept at a steady boil for about 15 minutes. They can also be steamed for 10-12 minutes.
Your Tip:
The most common type of fern for eating is the Ostrich fern and it can be found at markets and roadside stands. Unless you know for sure that the ferns around your home are edible, it's not recommended to go out into your yard and harvest your own fiddleheads. Some types of ferns are toxic so you don't want to take any chances.
And your Recipe: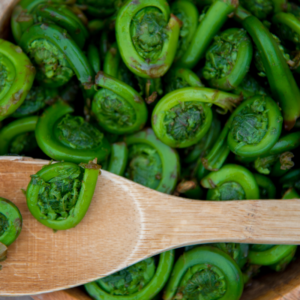 Sauteed Fiddlehead
Ingredients
1

tablespoon

salt

plus more to taste

1

pound

fiddlehead ferns

2

teaspoon

coconut oil

1-2

cloves

garlic

thinly sliced or 1 small shallot, sliced (optional)
Instructions
Trim and rinse fiddleheads, removing any brown ends or mushy parts. In a large pot bring 2 quarts water to a boil. Add salt and fiddleheads. Cook 1 minute. Drain and rinse with cold water. In a large frying pan, heat oil over medium-high heat. Add fiddleheads. Cook, stirring, until they start to brown, about 5 minutes. Add garlic if you like, and cook, stirring about 1 minute. Salt to taste. Serve immediately.
PS–You can receive delicious menus (complete with shopping lists!) like this delivered right to your email inbox by subscribing to Dinner Answers today!