Teff is one of the smallest grains in the world, and it's also one of the oldest, having been around for more than four thousand years.
If you're leading a gluten-free lifestyle, you may want to consider adding teff to your diet. Teff is a gluten-free grain-the seed of an Ethiopian grass-, which may be added to baked goods to add flavor, texture, and nutrition, or enjoyed as a side dish or cereal.
Besides being gluten-free, teff has many other things going for it. If you are living a gluten-free lifestyle that occasionally includes eating nutritional grains, teff is a good option. You'll get lots of B vitamins from a serving of teff, as well as plenty of calcium, iron, protein, and fiber. It can also help control your blood sugar.
You can buy teff ground into flour or in its seed form. Look for teff at the health food store, or in the organic section of the grocery store.
Now, it's time for your Trick:
Teff makes great gluten-free breakfast cereal. Simply add a half cup of teff seeds and a pinch of sea salt to two cups of water. After the water comes to a boil, simmer until the water is absorbed (That should take about fifteen minutes).
Your Tip:
Store teff in the refrigerator or in a cool dark cupboard.
And your Recipe: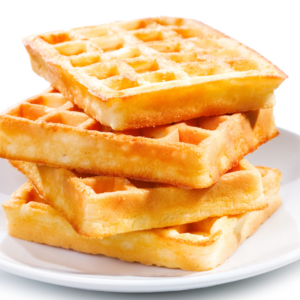 Teff Waffles
Ingredients
3/4

cup

apple juice

3

Tablespoon

butter

3

Tablespoon

maple syrup

1/2

teaspoon

cinnamon

1

Tablespoon

vanilla extract

1 1/2

cups

teff flour

1

Tablespoon

baking powder

1/2

teaspoon

salt
Instructions
Preheat the waffle iron.

Whisk the eggs in a large bowl.

Stir in the juice, butter, maple syrup, cinnamon and vanilla.

Add the flour, baking powder, and salt and stir until well combined.

Brush both the top and bottom surface of the waffle iron with butter, then ladle in enough batter to cover the bottom surface of the iron.

Cook until the steaming stops or the waffle is golden brown.
For more delicious recipes, subscribe to Dinner Answers today!
——————————–
Have you ever tried teff?  Let us know in the comments below!