Did you know that if you eat more fruits and vegetables, you are HALF as likely to develop cancer as those who eat the least amount of these foods?
There are irrefutable facts to support this statement. It's not just pie in the sky dreaming; it's a true promise. Eat more fruits and vegetables, and increase the odds in your favor of living a cancer-free life! Is that not incredible??
I know I am constantly beating the fruit and vegetable drum to y'all. I can't help it when I read as much as I do. The amazing thing to me is that bazillions of dollars are spent on researching chronic diseases and for all the pills and treatments out there, nothing is as effective as being preventative by doing a simple thing like eating more fruits and vegetables. Wouldn't it be incredible if we were to actually take seriously what we KNOW to be true and actually EAT the amount of produce we should each and every day? How do you suppose we could affect change in those statistics?
Here's some scary stuff to ponder:
*More than 125 million people have some sort of chronic illness.
*About half of chronically ill Americans are under the age of 45 and 15% of that number are CHILDREN with chronic conditions!
*It is estimated that 300,000 to 800,000 preventable deaths per year in the United States are nutrition-related. Did you see that?? NUTRITION-RELATED DEATH! That means the junk you eat can literally kill you!
It's time for a revolution, people! Are you ready for it?
It's time to go GREEN. Green as in boosting your green eating power to get the nutrition our bodies need. Let me ask you something. If there is a direct correlation between good health and doing this ONE thing—eating plenty of fruits and veggies each day, why WOULDN'T we all eagerly be doing this?
I am going to challenge each and every one of you to do what you can to get more green, more yellow, more orange, and more red in your meals, each and every day. Eat by color—green for beans, broccoli, spinach, kiwis, and lettuces. Yellow for squash and bananas, orange for oranges and sweet potatoes, and red for apples and peppers. Yes, we can do this!
And the best way is making veggie soups, lots of them. Here's a wicked good green soup that is double the green to make you healthy and lean! Enjoy: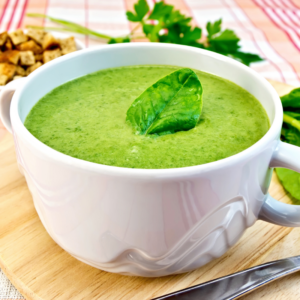 Cream of Green Soup
Ingredients
1

tablespoon

olive oil

1

large onion

chopped

2

cloves

garlic

pressed

1

10-oz. bag frozen chopped broccoli

1

10-oz. bag frozen spinach

2

cups

chicken broth

2

cups

lowfat milk

1

teaspoon

thyme

Salt and pepper to taste
Instructions
In a soup pot, heat olive oil over medium high heat and cook onion. When onion is translucent, add garlic and broccoli and chicken broth. Cook till broccoli is tender, about 3 minutes or so. Now add the spinach, thyme, salt and peppering to taste. Cook till all is tender and good, about 5 more minutes.

You can blend this soup (that's what I do) and serve hot with a 1/2 tablespoon lowfat cheddar cheese on top. It's really good!