I love purple potatoes. So does my daughter. I remember the first time I made them for her when she was still little–she was delighted! Young children have some of the best reactions to some of the more odd vegetables, though I know a lot of adults that react the same way.
If you've never seen purple potatoes, then all I have to say is that they are what they seem: purple through and through – the skin, and even the flesh of the potato is a striking bright violet color. They make for a very boldly colored side dish.
Sure, this potato is full of vitamin C, potassium, iron, and folic acid, but the best thing about this bright-colored veggie is that the color itself is one of the key health benefactors! That purple flare is due to the antioxidant anthocyanin. Anthocyanin can help boost your immune system along with the fight against cancer and help protect your heart. Like I always say, eat a colorful variety of produce!
Here's Your Tip
If you want an extra kick of nutrition, keep the skin on the potatoes; though be sure to wash them thoroughly.
Here's Your Trick
Simply sub purple potatoes for the standard russet potato you would normally use for mashed potatoes. The color doesn't affect the consistency and texture, and the antioxidant level is higher in purple potatoes than it is in russets.
And Here's Your Recipe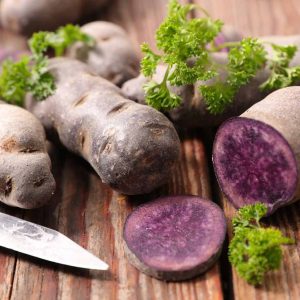 Fall Roasted Purple Potatoes
Ingredients
6-8

medium

purple potatoes

1

tablespoon

olive oil

1

teaspoon

garlic powder

1/2

teaspoon

onion powder

1/2

teaspoon

rosemary

Sea salt and pepper

to taste
Instructions
Preheat oven to 350.

Wash potatoes thoroughly and cut them into either cubes or wedges (leaving the skins on).

Place in baking dish.

Drizzle olive oil over potatoes and make sure they're evenly covered.

Then add the spices, and bake for roughly 15-20 minutes or until tender.

Enjoy!
Notes
And if you can't get purple potatoes, any old plain tater will do!
Per Serving: 101 Calories; 2g Fat; 2g Protein; 19g Carbohydrate; 2g Dietary Fiber; 0mg Cholesterol; 36mg Sodium.  Exchanges: 1 Grain(Starch); 1/2 Fat. Points: 3
Looking for more delicious recipes like this one? Check out our Dinner Answers program today!