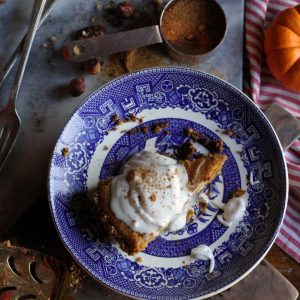 HOT MELT PUMPKIN PIE
Ingredients
Crust:
3

cups

mixed nuts

(use really creamy ones - like cashews, hazelnuts, walnuts, pecans, etc)

2

pitted dates
Fillings:
1

15 ounce

can pumpkin puree

1

cup

monkfruit sweetener

1 1/2

teaspoons

cinnamon

1

teaspoon

ground ginger

1/2

teaspoon

cardamom

1/2

teaspoon

nutmeg

1/4

teaspoon

cloves

2

teaspoons

pure vanilla extract

teaspoon

½sea salt

3

large eggs

beaten

1

cup

heavy cream

1/4

cup

sour cream
Whipped cream:
½

cup

heavy cream

2

tablespoons

monkfruit sweetener

1/2

teaspoon

pure vanilla extract
Instructions
Preheat oven to 350 degrees.

In a food processor, combine nuts and dates for crust. Blitz until nuts are minced and it begins to stick together. Press into a pie plate and bake in oven for 10 minutes, then remove and cool for at least 15 minutes.

In a large bowl, combine pumpkin, monkfruit sweetener, and spices (cinnamon thorugh cloves).

Whisk together well, then add in vanilla, salt, eggs, heavy cream, and sour cream. Whisk until smooth, then pour into cooled pie crust.

Place in oven and bake for 45 to 50 minutes, or until center is set and doesn't jiggle (you can always toothpick test it if you're unsure). If you notice the edges of the nut crust getting dark while the pie bakes, you can wrap the edges in foil to keep them from burning.

After you remove pie from oven, allow to cool at room temp for about 20 minutes, then place in the refrigerator for at least 2 hours to chill.

Just before serving, prepare the whipped cream. Combine all ingredients (heavy cream through vanilla) in a standing mixer bowl. Using whisk attachment, beat on a medium speed to start, and after cream begins to thicken (about 3 minutes) go up a high speed and beat for another couple minutes until cream becomes thick and creamy (don't let it go too long, or it'll get too thick, like butter).
Looking for more Holiday recipes like this? Check out our Thanksgiving Menus HERE!