Say "low carb" and immediately visions of steak and eggs dance in your head. Folks somehow have this notion that your mouth will never again chomp into a sandwich or that your diet will be devoid of anything fiber-filled.
Phooey, I say! It doesn't have to be that way. You can have your low-carb and get the fiber too! Here's how.
There is a simple math equation that you need to do to understand how this works. Fiber is a non-nutritive substance that aids in digestion. It isn't processed in your body like say, a donut would be (which is completely fiberless and filled to overflowing with sugar). Donuts, when eaten in any kind of quantity, will tend to grow you a rather large posterior. While fiber, eaten in any kind of quantity, will improve your digestion without getting you fat.
Take vegetables for example. Potatoes, corn, and a few others aren't going to be too low-carb friendly, but check out my friend broccoli. With a carb count of 1.9 grams per 1/2 serving, the fiber content is 1.1 grams. That means the net carb value is only 0.8. Not too shabby!
Artichoke hearts have 7.8 grams of carbs per 1/2 cup and yet the fiber count is 6 grams. It's easy to see why donuts do what they do now, isn't it?
Fiber is also easily obtained through certain seeds like flax and flax meal, which makes a great hot cereal. As a matter of fact, 1/4 cup of flax meal hot cereal has 13 grams of carbs, but 6 grams of fiber for a net carb count of 7 grams. Compared to the same amount of oatmeal with 18 grams of carbs, and 3 grams of fiber for a net carb count of 15 grams. See the difference?
So I ask you? CAN you do a low-carb diet and still get in the fiber you need? You bet—you just might have to do it a little differently! Here's a low-carb recipe from our Low-Carb Dinner Answers menu: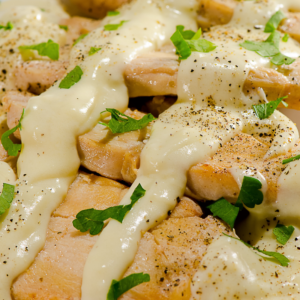 Chicken with a Ginger Cream Sauce
Ingredients
4

6-oz.

boneless skinless chicken breast halves

pound to 1/4-inch, if necessary

2

teaspoons

butter

Sea salt and freshly ground black pepper

to taste

2

tablespoons

white wine

or use white grape juice with a splash of vinegar – higher carb count this way

2

tablespoons

fresh lime juice

1

teaspoon

grated fresh ginger

1/8

teaspoon

cayenne pepper

1/2

cup

low sodium chicken broth

1/2

cup

half and half
Instructions
In a skillet, over medium-high heat, melt butter. Season chicken with salt and pepper and saute quickly, about 2-3 minutes per side. Remove chicken from the pan and keep warm.

Add wine (or juice/vinegar) and lime juice to pan; deglaze the pan using a wire whisk and working quickly. Bring it to a boil; now add the chicken broth, half and half, ginger and cayenne. LOWER heat immediately (or sauce will break) and cook over medium heat, stirring constantly, about 2 minutes. When sauce has reduced and thickened, taste it and correct the seasoning, if necessary.

Serve chicken with sauce over the top.