It doesn't take long for those familiar comfort food cravings to set in with the onset of fall, does it? There are days that I would do just about anything for a big scoop of macaroni and cheese! But as much as I love mac and cheese, I just don't eat that way anymore.
Lucky for me (and anyone else who loves comfort food), there are plenty of ways to serve up a comforting meal that isn't loaded with calories and unhealthy ingredients.
Here are five ideas for comforting, nutritious foods for fall.
Sweet potato casserole. I don't know about you, but for me, sweet potatoes are one of the most comforting of all foods. See how to make my Thanksgiving sweet potato recipe here!
Shepherd's pie. I like making a lean version of shepherd's pie on a regular basis. Fun fact: Did you know that if you don't use lamb, it is referred to as cottage pie? Ground turkey is a nice lean option for this comforting meal. But I often use ground beef or a mixture of whatever grounds I have on hand. If you use sweet potatoes as your topping instead of whipped white potatoes and toss in as many healthy veggies in between as you can, you have a lightened-up version that will taste every bit as comforting.
Meatloaf. Meatloaf is a perfect canvas to stuff with healthy ingredients. I love grating veggies into my meatloaf. Zucchini, carrots, sweet potatoes… yum. Again, try to use a mixture of ground turkey and lean ground beef for a comforting and healthy meal.
Soup. Soup is a no-brainer when it comes to comforting meals. Try my Beefy Mushroom Soup recipe here!
Dessert. When it comes to comforting fall desserts, I suggest reaching for fruit. Try this recipe!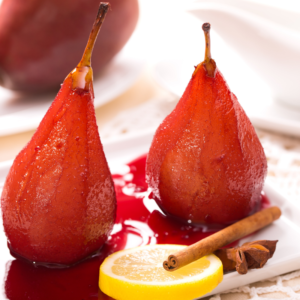 Cardamom Poached Pears
Ingredients
1

pound

pears

peeled, any kind

2

cups

water

2

cups

red wine

3

tablespoons

honey

1

teaspoon

cardamom

1/2

teaspoon

ground nutmeg

1/4

teaspoon

ground cloves
Instructions
In a large pot, combine all ingredients except pears.

Bring to boil over medium high heat and then turn heat down to a low medium.

Add pears, cover and cook until very tender, 20 to 25 minutes.

Serve pears with sauce that will have reduced.
———————————-
PS–Don't forget how useful your slow cooker can be to keep warm Fall comfort foods on the table.   Check out our Crock Cooker and One-Pot collections in the shop!