How often do you twist open the cover on a bottle of vanilla extract? Oh, it smells so good!
If you're a fan of the flavor and/or scent of vanilla, I highly recommend you get your hands on some vanilla beans and see how much more intense your love can be.
You may be surprised to know that vanilla comes from beans and contains quite a few (unscientifically documented or researched) medicinal properties. If you're feeling anxious, take a whiff of vanilla and you'll see how calming it can be!
The vanilla bean comes from the vanilla planifolia orchid. Since medieval times, healers have used vanilla bean pods as medicine— only bakers and chefs have used them for enhancing the taste of foods.
Ever wonder why real vanilla is so expensive? Well, the vanilla planifolia orchid has to be pollinated by hand and the pod itself has to be picked by hand, too. It then takes months for the seed pod to cure after it's been harvested.
Did you know you can make your own pure vanilla extract on the cheap?
It's SO easy, and it's fun to watch the magic happen.
What do you need?
• A beautiful bottle with a tight-fitting lid (you can use a mason jar but a bottle is nice for pouring)
• Good quality vodka
• Vanilla beans
You can work with the amount of ingredients you have. I would recommend a ratio of three vanilla beans to each cup of vodka.
What do you do?
Split the vanilla beans down the center lengthwise, keeping the bottom end intact. Put the vanilla beans in the bottle and cover them completely with vodka. Store it in a cool dark place for at least two months, shaking it every few days. After that time, as you use it, you can top it up with more vodka.
It will last for years!
Now it's time for your Trick:
If you discover that your vanilla beans have dried out on you, save them for stirring into a hot cup of tea! That will help release the flavor.
And your Tip:
When shopping for vanilla beans, look for very dark pods that are oily to the touch. They should be pliable so they can bend slightly without breaking. Store your beans in an airtight container in a cool place, but not the fridge where they can harden and lose their flavor.
And your Recipe: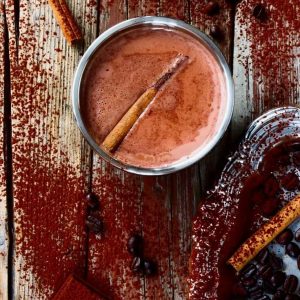 Mexican Hot Chocolate
Ingredients
1/4

cup

unsweetened cocoa

1/2

cup

semi-sweet chocolate

chopped

6

tablespoons

brown sugar

1/4

teaspoon

ground nutmeg

2

cinnamon sticks

broken in half

1

vanilla bean

split lengthwise

2

cups

miniature marshmallows

divided

1

dash

cayenne pepper

5

cups

whole milk

1

cup

half and half
Instructions
Combine first 6 ingredients (cocoa through vanilla bean) in a medium saucepan.

Add half the marshmallows, the cayenne, milk, and half and half.

Heat until chocolate is melted and mixture is simmering.

Remove vanilla bean and cinnamon sticks before serving.

Garnish with remaining miniature marshmallows.
Looking for more delicious recipes like this one? Check out our Dinner Answers program today!