There is a topic that keeps coming across my radar, both on Facebook, my email inbox, and even at the market when my fellow shoppers wonder what I'm doing with all of that kale (when my own crop has been harvested for the season, of course!): kale chips.
And, today, we're going to talk kale chips with a trick, a tip, and a new kale chip recipe to try.
Kale, as you know, is a super food, and many people are jumping on the kale bandwagon (yay!). Kale chips are an easy-to-make snack food that is delicious and super good for you.
Be sure to buy organic curly kale. Kale is on the Dirty Dozen list and is one of those vegetables that should only be eaten when you can find it organic. (Curly is my preferred variety for kale chips—feel free to buy other varieties for other kale recipes!)
Now, it's time for your Trick!
The secret to the best, crunchiest kale chips is to get them as dry as possible. So, after you soak your kale in a big bowl of water to remove the dirt and any bugs that might be lurking in there, spin the heck out of it. Any moisture on those kale leaves is going to lead to soggy chips. (And you don't want that.)
Your Tip:
Cook a batch of kale chips before you start your dinner prep and offer them to the kids as a snack. This is a great way to get the veggies into them in a manner that might appeal to them! You don't even have to tell them that the kale chips were part of their dinner 😉
And your Kale Chip Recipe: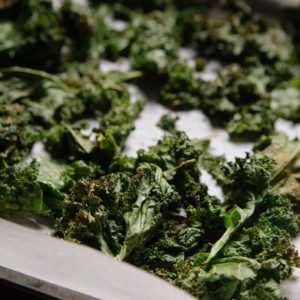 Garlic Chili Kale Chips
Ingredients
1/2

tablespoon

coconut oil

sea salt and freshly ground black pepper

to taste

2

cloves

garlic

minced

1

tablespoon

chili powder

6

cups

chopped kale
Instructions
Preheat oven to 250 degrees.

In a large bowl toss all the ingredients well.

Pour kale mixture onto a large baking sheet.

Bake for 20 minutes, stirring every 5 minutes, until kale is crispy.

Serve warm.
Most of us aren't getting enough veggies into us in the run of a day, and while kale chips are a great start, you can probably be doing more. We developed our Just Juiced Veggies to help you get in all a great dose of green veggies in one easy shot. Check it out here!