"Maaawwwmmm, we're hungry!"
Sound familiar?
The door hardly closes behind them when they get off the bus in the afternoon before they drop their school bags and start begging for a snack. And no wonder! Children need to replenish their energy reserves after a long day at school.
The problem with this, of course, is that too much of a snack that late in the day and their appetite is ruined for dinner.
Now that school is over for the summer in most parts of the country, there's even more opportunity for children with rumbling tummies to stand in front of you with pained expressions begging for something to hold them until dinnertime.
I'm going to share a little trick with y'all that I like to use to get some nutrition into kids' bellies and it doesn't even matter if they ruin their appetite.
When I'm in the midst of my dinner prep, no matter what we're having, I do up a veggie plate with whatever it is I have in the fridge. Sometimes it's broccoli, carrots, and tomatoes. Other times it's snow peas and red pepper strips.
Whip up a little ranch dressing or hummus for dipping and let them have at it.
If they turn up their noses at the veggies, well then, they couldn't have been that hungry now, could they? (insert evil mwa ha ha ha) And they can wait for supper. If they are starving, they'll dig in and put some nutrition in their bellies so that if they get filled up enough that they can't finish all their dinner, at least they got some nice dark-colored veggies in their systems.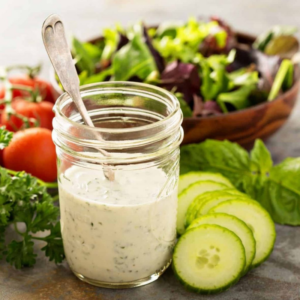 Ranch Dressing Recipe
Ingredients
1

cup

lowfat mayonnaise

1/2

cup

lowfat sour cream or plain greek yogurt

1/2

teaspoon

dried parsley

1/2

teaspoon

dried chives

1/2

teaspoon

dried dill weed

1/4

teaspoon

onion powder

1/4

teaspoon

garlic powder

Sea salt and freshly ground black pepper

to taste
Instructions
Whisk all ingredients together.

Cover with plastic wrap and refrigerate for at least thirty minutes prior to serving.
PS–You can receive delicious menus (complete with shopping lists!) like this delivered right to your email inbox by subscribing to Dinner Answers today!