This simple root veggie is a standard staple in most people's fridges. It's used in everything from soups to stews to side dishes. A favorite snack, these antioxidant rich root veggies contain carotenoids, which help fight inflammation and prevents the oxidization of cholesterol; very important considering that it is oxidized cholesterol that causes the build up on arterial walls and contributes to heart attack and stroke.
Studies have shown that a generous intake of beta carotene (in the form of beta carotene rich veggies, such as carrots, sweet potatoes, etc.) is helpful in lowering the risk to colon cancer as well.
Here's Today's TRICK:
The USDA Pesticide Data Program reports that there are 26 different pesticide residues on conventional carrots. My strong suggestion is you either grow your own or buy organic.
Here's a TIP:
Those cute baby carrots you see in the grocery store? Not babies at all. In fact, they're just regular carrots, cut, shaped, and bagged to look like "baby carrots". How about that?
And your RECIPE: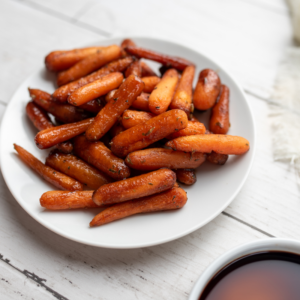 Roasted Baby Carrots
Ingredients
1/2

pound

baby organic carrots

2

tablespoons

olive oil

sea salt and pepper

to taste
Instructions
Preheat the oven to 400 degrees.

Toss carrots in a bowl with the olive oil, salt, and pepper. Transfer to a sheet pan in 1 layer and roast in the oven for 20 minutes, until browned and tender.

Serve!
PS–You can receive delicious menus (complete with shopping lists!) like this delivered right to your email inbox by subscribing to Dinner Answers today!