Once upon a time in the mid-nineteenth century, lobsters were dirt cheap. These tasty crustaceans were fed to prison inmates and children in orphanages. Lobster was also used as a fertilizer! Today, lobsters are seen as a rich person's food in many places, but back then they were eaten by only the very poor. To bring a lobster sandwich in your lunchbox would have been a source of great embarrassment for children.
My, how times have changed!
A lobster dinner in an American restaurant in the early 1900s would have cost you about $4 (in today's money). The same meal today will set you back around $30, depending on where you are.
American lobsters, also known as northern lobsters and Maine lobsters, are caught along North America's Atlantic coast, generally from Newfoundland to New Jersey. Before they're cooked, they are usually bluish-green or brownish in color. When they're cooked and on your plate, they're bright orange.
A traditional lobster dinner usually consists of a steamed lobster, a baked potato, coleslaw, a dinner roll and lots of butter. Not exactly overflowing in vitamins. But, lobster can be enjoyed in frittatas, fish stew, guacamole, pasta or with a beautiful steak.
Lobster isn't only delicious, it also has a pretty good nutritional profile. Lobster is a low-carb, low-cholesterol, high-protein treat. The majority of lobster's calories (89%) come from protein. When compared to turkey (81%), salmon (46%), sirloin beef (57%), or pork loin (58%), you can see what a great protein choice this ocean dweller is.
High in Vitamin B12, phosphorus, selenium, and copper, lobster is also a great source of nutrients.
Oh, and did I mention that it's mouthwateringly delicious? Yum!
Before I go to the market to see if there's any lobster today…
It's time for your Trick:
Put some sea vegetables in your cooking water to give your lobster a nice briny flavor. Oh, and if you're not sure how to cook lobster, it couldn't be easier.
• Fill your biggest pot about 3/4 full with water (seawater is your best option, but if you're not beside the ocean, salt that water until it tastes like a mouthful of ocean).
• Bring the water to a boil, add your seaweed (if you don't have any, that's fine).
• Put your live lobsters into the water headfirst. If your stockpot can only hold a couple of crustaceans at a time (they must be completely submerged), boil them in batches.
• When the lobsters are in the pot, put the lid on and boil for 12 minutes for the first pound of lobster and an extra minute for each additional quarter pound.
Now your Tip:
Do not throw away your cooking liquid! It will make a rich soup base. You can also save the shells to flavor it further, or use them in your next batch of bone broth.
Bonus Tip: Do not take the rubber bands off the lobster claws until you're ready to remove the lobster meat. A lobster pinch can break your finger. The bands aren't on there for decoration!
And your Recipe: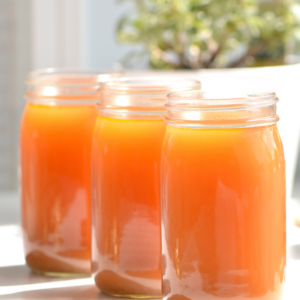 Simple Seafood Stock
Ingredients
5

cups

shrimp shells

heads, and tails (from about 2-lbs. shrimp)

1

cup

crushed crab shells

(from about 1/2 lb. crab)

1

cup

crushed lobster shells

(3 – 4 lobster tails)

2

tablespoons

olive oil

3

cloves

garlic

2

cups

sliced leeks

1

cup

sliced celery

1

cup

sliced scallions

7

cups

water

3

strips

lemon peel

no pith

3

bay leaves

1

bunch

Italian parsley

1

teaspoon

sea salt

1

teaspoon

whole peppercorns
Instructions
Rinse the shrimp heads and the shells in cold water and drain. Heat the olive oil in a large stock pot over medium heat. Add the whole garlic cloves, leeks, celery, and scallions and saute until leeks and celery begin to become translucent and the other vegetables soften, about 7-8 minutes. Add the shrimp heads and the shells, and stir for a few seconds. Carefully add water, then lemon peel, bay leaves, parsley, salt, and peppercorns. Stir and bring to a boil, then reduce heat to low and simmer, uncovered, occasionally skimming the surface and discarding any foam. Simmer for 45 minutes to an hour, adding water 1/4 cup at a time, if needed, then removing from heat when a rich, orange color develops. Strain, discarding shells, herbs, and vegetables. Cool completely, then refrigerate or freeze in 1 cup portions, if not using immediately.
PS–You can receive delicious menus (complete with shopping lists!) like this delivered right to your email inbox by subscribing to Dinner Answers today!