Irish moss isn't really moss. It's actually a seaweed found along the coasts of the Atlantic Ocean. In Ireland, this seaweed was once used to feed cattle and to stuff mattresses. Then a great famine in the 19th century left the country's residents starving. They turned to the shores and Irish moss became a key source of food for them. We now know that Irish moss is actually a superfood, containing between 15 and 18 of the essential elements that make up the human body.
Irish moss is an extremely good source of:
• iodine
• calcium
• sulfur
• potassium
• selenium
• zinc
• pectin
• iron
• protein
• vitamins A, D, E, F, K, and B
This remarkable ocean vegetable has been used to cure everything from swollen joints and bad breath to ulcers and glandular problems. Research shows us that Irish moss has anti-viral properties as well. This pretty little seaweed can fight the flu and even mumps! It can nourish your thyroid, remove mucous buildup from the gut and it can help your body to detoxify itself.
Irish moss also known as carrageenan is an amazing natural thickening agent. Recent research shows us that carrageenan may actually cause inflammation in the body, so you should consume Irish moss very sparingly and make sure the carrageenan you're eating is food grade as well!
Now that you know more than you ever thought there was to know about Irish moss…
It's time for your Trick!
Fresh Irish moss, after being washed, soaked, and liquefied in a high-speed blender, turns into an amazing substance that turns smoothies, puddings, and soups beautifully creamy.
Your Tip:
If you don't live along the rocky coast of the Atlantic Ocean, you might have trouble finding fresh Irish moss. Look for it online, or at your local health food store. Just be sure if you're purchasing anything with carrageenan, check that it's food grade.
And your Recipe: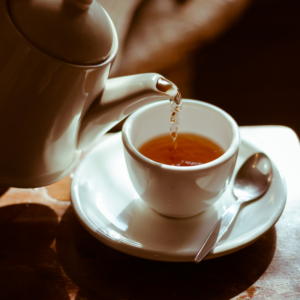 Irish Moss Tea
Ingredients
Irish (carrageenan) Moss

a good handful (about 5 grams)

1

Organic lemon

1

Teaspoon

local honey per serving

or to taste

1

pint

cold water
Instructions
Juice lemon -reserve peel. Put the Irish moss into a medium pan, add water to cover, add the peel of the lemon and simmer for about 5 minutes. Add the lemon juice. To serve, strain into a large mug and add honey.
PS–You can receive delicious menus (complete with shopping lists!) like this delivered right to your email inbox by subscribing to Dinner Answers today!