Fall is in full swing and we're not above loving that infamous "basic" beverage that explodes EVERYWHERE this time of year: the sweet and spiced PSL (aka: Pumpkin Spice Latte).
Since the Starbuck's version, that must be credited for bringing this drink such fame, is sooo full of sugar and other mysterious-not-good-for-your-poor-body ingredients we decided to take matters into our own hands and make a version with real ingredients that's also WAY LESS sugar and even Paleo-friendly!!
May we present our Paleo Pumpkin Spice Latte recipe:
(Makes 3 to 4 servings pending on mug size 😉 and it's maybe a little too easy to consume all on your own if you're not careful)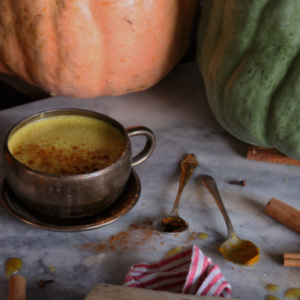 Paleo Pumpkin Spice Latte
Ingredients
2

cups

unsweetened cashew

OR almond milk - I typically use cashew, it tends to be the creamiest

1/4

cup

pumpkin purée

NOT pie filling

1

tablespoon

honey

and/or pure maple syrup - I like using just a little of both

1/2

teaspoon

vanilla extract

1

tablespoon

grass fed butter

substitute with more coconut oil or coconut butter for vegan option

1

teaspoon

coconut oil

1 1/2

cups

hot strongly brewed coffee

1/4

teaspoon

ground cinnamon

A couple shakes of ground cardamom

A dash of ground ginger

A dash of ground cloves

A dash of ground nutmeg
Instructions
Heat cashew (or almond) milk in a small sauce pan over medium low heat. Be careful not to boil the milk, and once it's become hot, remove it from heat. Add all ingredients, including heated milk, to a blender. Blend for several seconds or until fully combined. A bit of froth should've formed after the mixture settles. Give it a quick taste test and adjust accordingly if you wish!

For example: add more spices if you fancy // if you want it creamier, then add a smidge more butter and/or coconut oil // and if you want it as sweet as Starbucks, instead of adding more honey or syrup, use Stevia to sweeten it to taste! A bit more maple syrup will do the trick too, BUT, it'll lessen its qualifiers as "Paleo" LOL – enjoy hot and with a sprinkling of cinnamon on top!
If you're feeling especially wild, try making our Paleo Coconut Whipped Cream for a topping – you can find that recipe HERE.