You get the towels ready, the sunscreen applied, and settle down to enjoy a few minutes of sun while the kids play in the pool only to hear, seconds later, the familiar refrain, "Can I have a snack?"
Swimming seems to make children hungrier than anything else, and you can be almost guaranteed that if they aren't asking for something to eat while they're in the pool, they'll be asking for something as they're getting dried off.
Stay ahead of the game this summer by stocking up with healthy poolside snacks that you can easily grab to keep your kids nourished as they play. To help prevent you from falling into the trap of tossing packaged processed food products at them, I have some great suggestions for you for healthy poolside snacks for the kids. (Note: these snacks are great for kids any time, but they are convenient for the pool.)
Smoothies. Whip up some fruit, yogurt, and (if you have a good blender) try to sneak in some spinach (they'll never know!) to be served poolside. This snack gets bonus points because they can sip on their smoothie as they go in and out of the pool without getting their hands dirty in between. I've added a bonus smoothie recipe for you below!
Apple slices with nut butter. For something a bit fun, spread peanut butter (or almond butter) right on the apple slices and let the kids skewer them for easier (less sticky) poolside eating.
Hard boiled eggs. The ultimate grab and go protein. When my kids were small, I always had at least a half dozen boiled eggs in the fridge at a time for easy and portable snacks.
Veggie sticks. Carrot sticks, celery sticks, sliced bell peppers, cucumbers…with or without dip (try hummus or a nice creamy cheese for some extra protein), your kids will eat their veggies poolside because of the aforementioned level of hungry they will be!
Sandwiches. Put together a little assortment of sandwiches and/or wraps for the kids to nosh on when they get out of the water. Egg salad is a summertime favorite—just be careful not to leave them out in the sun too long! (Tip: bring a cooler out on the deck.)
Frozen grapes/cherries. If it's a hot day, everyone will enjoy snacking on a handful of frozen grapes or cherries!
Muffins. There are a million (or more) recipes floating around for muffins and quick breads that are healthy for your kids (I've included one at the bottom of this article). These types of snacks, when baked with wholesome ingredients, are an excellent little nutrition boost for your kids. Make a great big batch and store them in the freezer so you always have a nice fresh snack for the kids.
Meat and cheese. Put together your own homemade version of those horrible processed packaged lunch things you see at the grocery store. All you need are uniformly shaped bits of nitrate-free deli meat, cheese, and whole grain crackers. Kids love stacking these things together. Add some fresh berries, and you have a perfect mini meal.
Trail mix. Raisins and other bits of dried fruit, seeds, nuts, coconut, a bit of dark chocolate…whatever you have in the cupboards that looks like it would work in a trail mix, pop it in a container and away you go.
Fruit. Of course, bananas, apples, watermelon slices, peaches, strawberries, etcetera, all make delicious and portable sweet snacks in the summer time.
Keep your kids well fueled with healthy snacks like these when they're playing near the pool (or anywhere!) this summer.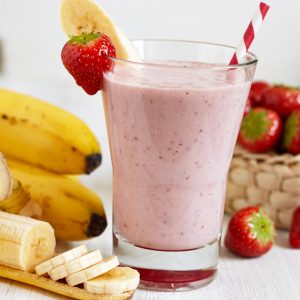 Berry Banana Blast Smoothie
Ingredients
1

banana

peeled and cut into chunks

1/2

cup

strawberries

1/2

cup

fresh spinach leaves

1/2

cup

organic plain yogurt

1/2

cup

water

if needed to thin out smoothie

1/2

cup

ice cubes

1

scoop

Perfect Paleo Protein

flavor of choice
Instructions
Place banana, strawberry, spinach, and water in a blender.

Blend 15 seconds, then add ice and protein powder.

Blend 30 seconds or until thick.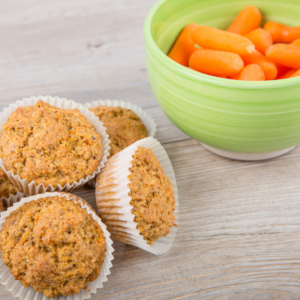 Whole Wheat Carrot Muffins
Ingredients
1

cup

flour

1

cup

whole wheat flour

1

cup

brown sugar

1

teaspoon

baking soda

2

teaspoons

baking powder

3/4

teaspoon

sea salt

1/2

teaspoon

allspice

1/2

teaspoon

ground ginger

1

egg

2

tablespoons

olive oil

1/2

cup

skim milk

1

teaspoon

vanilla

6

ounces

low fat vanilla yogurt

1

medium

carrot

shredded
Instructions
Preheat the oven to 350ºF.

Mix all the dry ingredients (flours, brown sugar, baking soda, baking powder, salt, allspice and ginger) in a bowl. I

In another bowl, beat the egg lightly and mix with oil, milk, vanilla and yogurt. P

Pour the wet mix into the dry mix and stir. Add the carrot to the mix.

Fill the muffin tins 2/3 to 3/4 full.

Bake for about 15 minutes.

To make sure that they are ready, you can insert a toothpick in the center of the muffins and see if it comes out clean.