Food For Thought
Saddle Up for some great grub!
By: Leanne Ely
Dear Friends,
I had the pleasure of seeing a real life cattle drive in Fort Worth, Texas not too long ago. Longhorns ambling down the road with a cowboy on his horse whooping at the cows to keep them off the sidewalks (and off the people, LOL)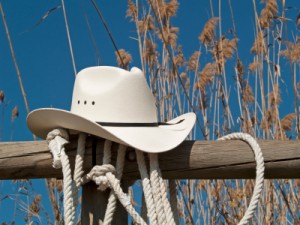 I do think it appropriate to partake of cowboy chow while in Texas so let's belly up the table and eat like a cowboy. 😉 Here's something that will satisfy the cowboy hunger in all of us, your family included!
Cowboy Casserole
Serves 6
2 pounds extra lean ground beef
1 large onion, chopped
1 large green bell pepper, seeded, deribbed and chopped
2 cloves garlic, pressed
1 10-oz. can enchilada sauce
1 8-oz. can tomato sauce
1 6.5-oz. can sliced black olives, drained
2 tablespoons chili powder
Salt and pepper to taste
1 teaspoon oregano
1/2 teaspoon cumin
2 cups water
1 cup cornmeal mix
1 cup low fat Cheddar cheese, shredded
In a large skillet, cook ground beef together with onions, bell pepper and garlic. Drain off fat and place in slow cooker.
In a mixing bowl, combine enchilada sauce, tomato sauce, olives, chili powder, salt, pepper, oregano and cumin. Pour over ground beef.
Cover and cook on low heat setting for about 8 hours.
30 minutes before you are ready to serve, bring water to a boil. Add cornmeal mix and return to a boil. Lower heat to a simmer and continue to stir for another minute or so.
Drop cornmeal batter by the spoonful into the slow cooker. Raise slow cooker heat setting to high; cover and cook for another 15 to 20 minutes, or until corn dumplings are done.
Sprinkle with cheese and serve.
Per Serving: 696 Calories; 41g Fat; 51g Protein; 31g Carbohydrate; 5g Dietary Fiber; 136mg Cholesterol; 1141mg Sodium. Exchanges: 1 1/2 Grain (Starch); 6 1/2 Lean Meat; 1 1/2 Vegetable; 0 Fruit; 4 1/2 Fat.
SERVING SUGGESTIONS: A big old green salad.
VEGETARIANS: Swap out the beef for TVP crumbles and enjoy!
Love,
Leanne Ely, Your Dinner Diva Since 2001
https://savingdinner.com
FR*EE Menu-Mailer when you get our Daily Dish! Come and Get It!