A favorite super healthy "fast" food favorite of mine is spinach. Not just any old bunch of spinach, but the stuff in a big plastic tub (I get mine at Costco). I use a ton of it during the week and eat it in a variety of different ways from salads, to side dishes and let's just say, it's a secret ingredient in my smoothies (shhh, don't tell!).
It's a quick-cooking veggie (like I said, "fast" food!), 100% worthy of the title superfood. Spinach is chocked full of all kinds of healthy nutrients, including a whole bunch of B vitamins, C & E, omega 3 fatty acids, glutathione, beta-carotene, alpha-lipoic acid, and too many minerals to name, not to mention all the phytonutrients—this is a food that will fight cancer, heart disease, cataracts, and macular degeneration. This veggie has it ALL.
One thing to remember is to always buy organic spinach. This is one of the vegetables named by the EWG (Environmental Working Group) on their Dirty Dozen List (a list of foods with the worst pesticide overload. Others included are lettuce, potatoes, apples, strawberries, peaches, bell peppers, and more. You can google "dirty dozen"+EWG and get the full scoop).
Here's a fabulous spinach salad with some unexpected ingredients, enjoy!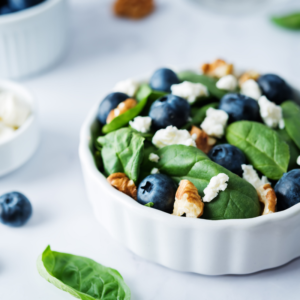 Double Blue Spinach Salad
Ingredients
1

cup

chopped walnuts

2

tablespoons

balsamic vinegar

6

tablespoons

extra virgin olive oil

1 1/2

cups

fresh blueberries

3/4

cup

blue cheese crumbles

1/2

cup

thinly sliced red onion

6

handfuls

baby spinach

best way to measure!
Instructions
In a salad bowl, lay down the spinach first then add the rest of the ingredients. Toss well and serve, that's it!
PS–You can receive delicious menus (complete with shopping lists!) like this delivered right to your email inbox by subscribing to Dinner Answers today!