Savory, part of the mint family, is a fragrant aromatic herb used in American and Eastern European cooking. Savory has two seasons, bringing us winter savory and summer savory. Winter savory is very pungent, making it less popular for cooking than its cousin, summer savory.
Both types of savory have been used medicinally and in cuisine for a couple thousand years – no small wonder when you consider all of its amazing properties.
Savory leaves contain antioxidants and healthy dietary fiber, but they also contain some important essential oils. One of those oils, thymol, actually has antifungal and antiseptic characteristics. Imagine that!
Another compound in savory that's quite important is carvacrol. Carvacrol gives savory its pleasant taste and smell and has been used for its antibacterial properties as a healthy food additive.
This wonderful herb has anti-rheumatic, digestive, expectorant, and other health properties. It has been used as a natural remedy for colic, gas, diarrhea, urinary infections, coughs, sore throat, chest congestion, headaches, and nausea, and it's even beneficial for dental health.
Savory aids in the formation of red blood cells, improves liver and kidney function, and can even help slow down certain aging processes within the body!
You can grow your own savory on your own front terrace (it's a cinch!), and it's also readily available dry.
And, it's super easy to add to the foods you already make and enjoy. Toss some summer savory into your dressing the next time you cook a turkey. When you're making a breadcrumb coating for fish or chicken, add some savory to give your dish a simple flavor boost.
Mix it into your next quiche, meatloaf, or tomato sauce. Summer savory is commonly used in bean dishes-no coincidence since it aids in digestion!
Add a nice aroma and tang to your food with an herb that will bring you lots of health benefits at the same time!
Now that we know summer savory is good for us…
It's time for your Trick:
If there's a food you enjoy but you have trouble digesting it, season it with some summer savory before cooking to help negate ill effects!
And your Tip:
Use dried savory in your poultry, meat, or fish marinades.
And your Recipe: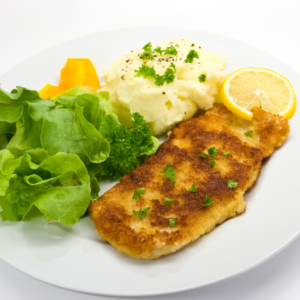 Savory Breaded Pork Chops
Ingredients
3

1-oz. slices

whole wheat bread

1 1/4

teaspoons

sea salt

3/4

teaspoon

freshly ground black pepper

3/4

teaspoon

dried rubbed sage

3/4

teaspoon

dried thyme

1/2

teaspoon

dried summer savory

6

1/4-inch thick

boneless pork chops

1/3

cup

flour

4

large

egg whites

lightly beaten

1

tablespoon

olive oil

1

lemon
Instructions
Place bread slices in a food processor; pulse 10 times or until coarse crumbs measure approximately 1 cup; transfer to a shallow dish. In a cup, combine salt, pepper, sage, thyme, and savory; sprinkle mixture over both sides of pork chops. Place flour in a shallow dish; place egg whites in another shallow dish. Dredge pork in flour then dip in egg whites and dredge in breadcrumbs. Heat the oil in a large skillet over medium-high heat; add pork chops and cook for 2 1/2 minutes or until lightly browned; turn and cook for 2 1/2 minutes longer or until done. Slice lemon into 6 wedges and serve with pork.
PS–You can receive delicious menus (complete with shopping lists!) like this delivered right to your email inbox by subscribing to Dinner Answers today!