In an earlier blog post, I talked about the importance of honeybees, so naturally, I wanted to feature honey in today's post. After reading this article, you'll have a great trick, a new tip, and a fabulous recipe featuring my favorite sweetener—honey!
(Now, in case you didn't read that article, I strongly recommend you do that. You can find it here.)
Honey is one of the few sweeteners in the world that actually has huge health benefits. Honey is antifungal, antiviral and antimicrobial. That's because bees produce a substance called propolis to fix cracks in the hive and to keep their home secure. It's basically like bee caulking. This propolis is deposited into the honey and we reap the benefits when we eat it. Cool, huh?
Besides being delicious, honey also contains phytonutrients which protect against cancer.
Now for your Trick:
Watch out for "honey blend" products you see in the grocery stores. That is not pure honey and often contains high fructose corn syrup! These manufacturers are required by law to label their product as a "blend" so watch for that word. Best bet is to buy local honey when at all possible.
There's another reason why you should eat local honey and you'll learn that in your…
Tip:
A teaspoon of local honey each day may help keep allergies away. When you eat local honey, the pollens that upset your allergies end up in the honey you eat. Rather than making you sick, this actually inoculates you, almost vaccinating you against local allergens. This worked miracles for me, but your mileage may vary. If you can't find local honey, go to http://www.honey.com/honey-locator/
And your Recipe: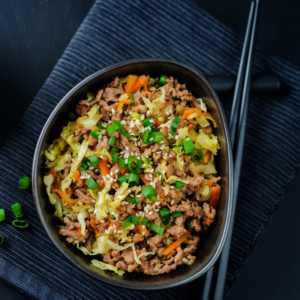 Cabbage and Sausage Stir-Fry
Ingredients
1

pound

pork sausage meat

1

small

onion

sliced

Sea salt and freshly ground black pepper

to taste

3

large

cloves garlic

minced

2

tablespoons

Dijon mustard

2

teaspoons

raw honey

2

cups

shredded cabbage

2

cups

chopped kale
Instructions
In a large skillet with a tight-fitting lid, cook sausage meat over medium heat for 10 minutes or until browned. Using a slotted spoon, transfer to a paper towel lined plate and set aside.

Discard all but 1 tablespoon of drippings from the skillet and reduce heat to low. Add next 5 ingredients (onion through honey); cook for 5 minutes, stirring often. Add cabbage and kale; cover and cook for 5 minutes. Add cooked sausage meat; blend well then heat through; serve warm.
If you'd like more delicious recipes, check out Dinner Answers!