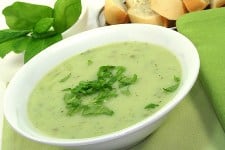 Healthy Foods
Book Review for The Blood Sugar Solution Cookbook by Mark Hyman, MD
By Leanne Ely, C.N.C.
In his book, The Blood Sugar Solution, Dr. Hyman adeptly laid out the reasoning (and the science) behind the "why" of balancing insulin levels to get to your ultimate goal weight and to achieve optimum health. Dr. Hyman believes one of the root causes of chronic disease is poor nutrition, I highly concur.
But it is in this book, The Blood Sugar Solution Cookbook, that there are recipes to make The Blood Sugar Solution a reality!
This cookbook breaks down Dr. Hyman's plan in detail—where to start (he has you take your blood pressure, take your measurements, weigh and take the Diabesity Quiz. Then it's off to prepare the kitchen –you'll need some basic tools, a pantry declutter (fridge too—don't worry, he'll give you the 10 Rules for what to keep and what to toss), how to shop, and a basic food list that will help you restock your pantry and fridge with ease.
So how about those recipes? Well take it from me, a bona fide cookbook author (I've got 7 cookbooks under my belt!), these babies had me drooling! The recipes are simple, but well seasoned, absolutely delicious and easy to add to your families diet without them knowing you're trying to put them on a "diet"!
Here's a recipe from The Blood Sugar Solution Cookbook, enjoy!
Green Goddess Broccoli and Arugula Soup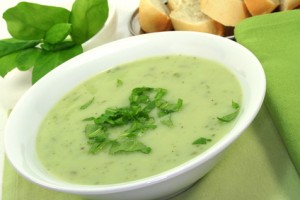 Serves 4
1 teaspoon ghee
½ medium yellow onion, chopped
2 garlic cloves, finely chopped
1 large head of broccoli, cut into medium florets
1 cup arugula
2 ½ cups low-sodium vegetable broth
½ cup unsweetened coconut milk
juice of ½ lemon, or more if needed
sea salt and freshly ground black pepper
1. Heat the ghee in a medium pot over medium high heat. Once melted, add the onion and garlic and cook until aromatic and soft, about 3 minutes.
2. Add the broccoli and arugula to the pan and stir frequently until the broccoli is bright green and arugula has wilted, 4-5 minutes.
3. Pour in the broth and bring the soup to a boil.
4. Once boiling, reduce the heat to low and simmer until the broccoli is fully cooked, 5-8 minutes.
5. Carefully transfer the soup to a blender and blend on high speed for 1 ½ minutes. Pour in the coconut milk and lemon juice and blender for another 30 seconds. (Or use a handheld immersion blender to puree the soup right in the pot). Taste seasoning and adjust with salt, black pepper and lemon juice if needed. The soup should be thick, but still light. If it is too thick, thin it with more coconut milk or water. Any leftover soup can be stored in the refrigerator for up to 5 days or in the freezer for up to 6 months.
Nutritional analysis per serving (1 ¼ cups): calories 104, fat 4g, saturated fat 1 g, cholesterol 0mg, fiber 5 g, protein 13 g, carbohydrates 5 g, sodium 289 mg.