Many people are familiar with the creamy white dessert known as tapioca pudding, but there's a lot more than that to the root of the cassava plant.
In some countries, tapioca (which is essentially a root vegetable) is eaten as a main dish for a good source of energy that is low in cholesterol.
Tapioca has long been enjoyed in Asia, Africa, and South America as a savory food rather than a sweet treat, and many health-conscious folks around the world are now cluing into the health benefits this plant can provide.
Common among the gluten-free crowd, tapioca flour is a wonderful starch that adds softness to grainless baked goods. Tapioca flour can also be used as a thickening agent in gravies, soups, and sauces.
But there's more to tapioca than some starch. Tapioca contains iron, B vitamins, magnesium, potassium, calcium, and phosphorous. This root vegetable also provides a good amount of dietary fiber.
Now, it's time for your Trick:
The next time you make a blueberry pie or cobbler, stir in a bit of tapioca to serve as a natural thickener.
Your Tip:
If you're confused by the interchangeable use of tapioca starch and tapioca flour, you're not alone! Corn starch is not the same as corn flour and potato starch is not the same as potato flour. But tapioca starch and tapioca flour are the same things.
And your Recipe: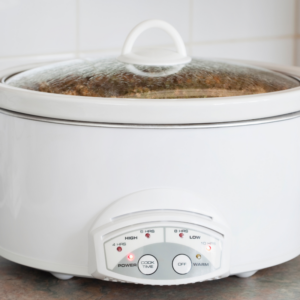 Crock Cooker Barbecue Turkey
Ingredients
1/2

cup

ketchup

1

tablespoon

sugar

1

tablespoon

quick cooking tapioca

1

tablespoon

cider vinegar

1

teaspoon

Worcestershire sauce

1/4

teaspoon

ground cinnamon

1/4

teaspoon

crushed red pepper flakes

2

pounds

boneless skinless turkey breasts
Instructions
In a crock cooker, combine first 7 ingredients (ketchup through crushed red pepper flakes); add turkey.

Cover and cook on LOW for 6 to 8 hours or on HIGH for 3 to 4 hours.

Serve turkey with cooking juices.
Notes
Per Serving: 306 Calories; 2g Fat; 56g Protein; 14g Carbohydrate; trace Dietary Fiber; 141mg Cholesterol; 479mg Sodium. Exchanges: 0 Grain(Starch); 7 Lean Meat; 0 Fat; 1 Other Carbohydrates. Points: 7
—————————————–
If you've stumbled upon tapioca while trying to ease yourself into the Paleo way of life, I have great news for you! You can join our 30-Day Paleo Challenge for loads of support and delicious recipes! Click here find out more!