I love, love, love scallops! I know there are a handful of you that don't like fish or shellfish. That's okay, I'll eat what you don't want.
Scallops are mollusks with two hinged scalloped (if you can believe that) shells. The part of the scallop that we eat is the white muscle that opens and closes the shells called the nut. Even if you've never tried a scallop I know you've seen them. They're white, medallion shaped, and available – fresh or frozen – all year!
And, of course, there are tons of nutritional benefits! Scallops are full of protein, vitamin B12, and omega-3 fatty acids. Protein-packed, they quickly satisfy hunger and at the same time, help prevent cancer, strokes, heart attacks, Alzheimer's, regulate blood pressure, and even help against childhood asthma. Yep, they're that good for you!
Here is Your TRICK:
Try to avoid buying any scallops labeled with "scallop product water added." With added water, the scallops will be whiter and plumper and weigh more so you will pay more. Don't be fooled!
Here is Your TIP:
If you don't live near a coast, frozen scallops may be better than fresh. Always make sure the market's fresh scallops are actually fresh and not five days old. And if you do buy frozen, thaw in the refrigerator overnight, no microwaving!
And Your RECIPE: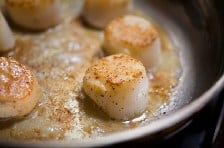 Scallops in a White Wine Sauce
Ingredients
1/2

cup

chicken broth

1/4

cup

white wine

1/2

cup

lemon juice

1/2

yellow onion

minced

2

cloves

garlic

minced

1/4

cup

butter

1

pound

sea scallops

1

tablespoon

coconut oil

or olive oil

Dash of sea salt and pepper to taste

to taste
Instructions
Preheat broiler. In a large skillet, over medium heat, mix broth, wine, lemon juice, onion, and garlic. Cook until most of the liquid has reduced, and then add butter and stir until melted.

Brush the scallops with the coconut oil, add salt and pepper, place on baking sheet. Broil scallops for just a couple minutes on each side or until opaque. And then you just have to serve with wine sauce!

**optional addition: serve over a bed of angel hair, make it a meal!