Did you know water is a nutrient? The only thing that will truly quench that thirst and hydrate your body is water.  Water makes up nearly 70% of the human body.  Almost every bodily function we have needs water.  Water carries the good stuff in (nutrients) and it's water that takes the bad stuff out (poop).  Water maintains body temperature and helps the circulatory system.  Water is absolutely essential and yet, most people don't get enough.  Instead of listening to our bodies, we turn a deaf ear and order another Super Gulp.
Are you ready to lose the soda habit and bring on the water? Your body is begging for water. Try drinking a glass in the morning with your coffee. This will add one more glass of water to your quota for the day. Deliberately making sure you are hydrated will give you more energy, help you lose the body clutter, and help your body function better. Drink up!
Here's a TIP:
Instead of buying water by the case-full, try a water filter. Even pond water is potable using a British Berkefeld Water Filtration system! I bought mine on ebay.com and have been a very happy camper. The initial expense was over $200, but it is worth it to have pure water and to lose the expense of bottled!
Here's a TRICK:
A great thing to do is measure out the water you need for the day and put it in the fridge to keep it nice and cold. Then pour your water into a thermos and take it to work. Now your water stays cold, you have exactly what you need, and no more excuses for not drinking your water!
And your RECIPE: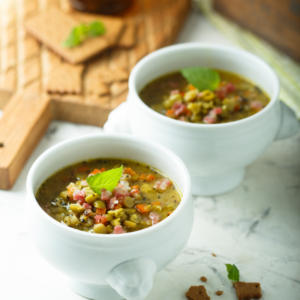 Crock Pea Soup
Ingredients
1

pound

split peas

rinsed

1

ham bones

optional

1

onion

chopped

2

carrots

peeled and sliced

1

stalk

celery

chopped

2

cloves

garlic

pressed

1

bay leaf

1 1/2

quarts

water

use chicken broth if not using ham bones

Salt and pepper

to taste
Instructions
Put all ingredients into a crockpot, except the salt and pepper.

Cover and cook on high for 4 to 5 hours or low for 8 to 10 hours, or until peas are very soft.

Before serving, remove bones and bay leaf.

Salt and pepper to taste.
Notes
LEFTOVERS? This soup freezes well.
SERVING SUGGESTIONS: A spinach salad and some whole-grain rolls.
KOSHER: Use chicken bones instead leftover from a roast chicken
GLUTEN-FREE: Make sure the chicken broth is GF if using chicken broth.
VEGETARIAN: Use vegetable broth and skip the ham bones.