Turnips are white and purple vegetables that are about 5 to 10 centimeters in diameter and are part of the vegetable leaves known as turnip greens. They are high in vitamin C but are often overlooked today in the kitchen as a vegetable that is versatile and usable. Due to their mild, slightly sweet flavor, they can be used in a variety of dishes either raw or cooked, sweet, and savory.
You can safely add chopped sweet turnips to all your fruit and savory salads such as chicken salad, tuna salad, and apple fruit salad. The reason is that they are crispy and lightly sweet but are very mild so they absorb other flavors well too.
Here's Today's TRICK:
Buy your turnips small or medium-sized and avoid soft spots or scars so that you can enjoy the best taste. They should be firm to the touch and have crispy leafy green tops. (you can eat the green tops too!)
Here's a TIP:
Add a couple of turnips, cubed to stews and soups to add some sweetness to the dish. They take about as long to cook as carrots but do not overcook. Unlike carrots which become sweeter with cooking, turnips lose their sweetness when overcooked.
And Your RECIPE: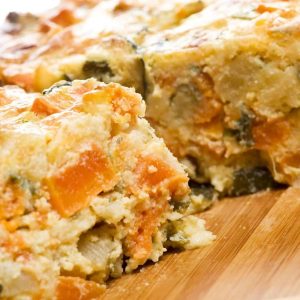 Root Veggie and Ginger Skillet Frittata
Ingredients
2

tablespoons

coconut oil

2

medium

carrots

peeled and grated

2

medium

turnips

peeled and grated

6

eggs

beaten

Sea salt and freshly ground black pepper

to taste

1

teaspoon

freshly grated ginger

1/4

cup

chopped green onions
Instructions
In a large skillet, heat the coconut oil over medium-high heat.

Cook the carrots and turnips until soft.

Pour the eggs over the veggies and season with salt and pepper and ginger.

Let the eggs set slightly before flipping over.

Once the eggs are cooked to the desired doneness remove from the heat.

Top with green onions and serve.
For MORE delicious recipes like this check out our Dinner Answers program – when you sign up, you gain access to weekly menus emailed right to your inbox!