'Tis the season for cranberries! Around the holidays you can find fresh cranberries just about anywhere, so there's no excuse for buying those nasty cans of jellied cranberry sauce!
Cranberries aren't only beautiful, they're also full of nutrition. Cranberries are full of Vitamin C, Vitamin E, potassium, iron, magnesium, and folate. Cranberries contain antioxidants and phenols that can protect against urinary tract infections.
Now that Thanksgiving is here and fresh cranberries are so readily available, go ahead and make use of them as much as you possibly can!
Today your Trick, Tip, and Recipe are going to give you some great ideas for incorporating cranberries into your Thanksgiving Dinner.
So without further adieu, here is your Trick:
Go raw with healthy, sweet cranberry relish. If you have a food processor, toss in a cup or two of raw fresh cranberries (frozen won't work out for you very well here) with the juice of one lemon and two or three pitted Medjool dates. Process until you get a relish-like consistency and serve alongside your turkey dinner.
Your Tip:
Make your own cranberry sauce! It's so easy to make this popular condiment yourself that you'll never buy it again. Start with 16 ounces of good, clean fresh cranberries (frozen will work fine here, but you'll need a bit more cooking time). Add them to a medium-sized saucepan over medium-high heat, along with 3/4 cup of orange juice and a couple of glugs of maple syrup or honey. (Alternatively, you can use 3/4 cup of white sugar or coconut sugar.) Cover the works, stirring occasionally. Important tip: do not walk away while the pot is covered! These berries are going to explode and pop, releasing their pectin and breaking down into a jam-like consistency. So stay close! When the popping starts, turn the heat way down to medium-low, and let the mixture reduce for about 5-10 minutes. After the berries have cooked, go ahead and put your potato masher to work on them. Let the sauce cool before refrigerating.
And your Recipe: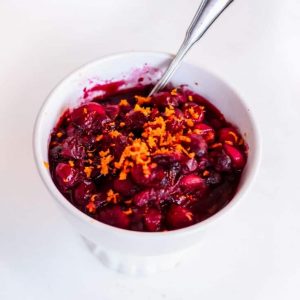 Orange Cranberry Sauce
Ingredients
4

cups

fresh or frozen cranberries

1 pound bag

1

cup

water

1 1/2

cups

sugar

1

cup

orange juice
Instructions
Rinse the cranberries (even if they are frozen) in a strainer with cool water, and remove any stems and bad or blemished berries.

In a large saucepan, over medium heat, heat the water, juice and sugar to boiling stirring occasionally.

Continue boiling 5 minutes longer to assure sugar is completely melted, stirring occasionally. Add the cranberries.

Heat back to boiling over medium heat; stirring occasionally.

Put a lid on the saucepan and continue boiling about 5 minutes longer, still stirring occasionally, until you hear the cranberries begin to pop.

Remove the saucepan from the heat, give it a good stir and allow to cool for about 20 minutes.

Pour the cranberry sauce into a bowl or container and allow to completely cool before refrigerating.
Looking for more delicious recipes like this one? Check out our Dinner Answers program today!