Once upon a time, the only potato option on the Thanksgiving Dinner table was your standard white mashed potatoes.
But today, we know that white potatoes aren't the be all and end all in a starchy mash. There are several options in potatoes (and non-potatoes) for us to explore, so let's take a look!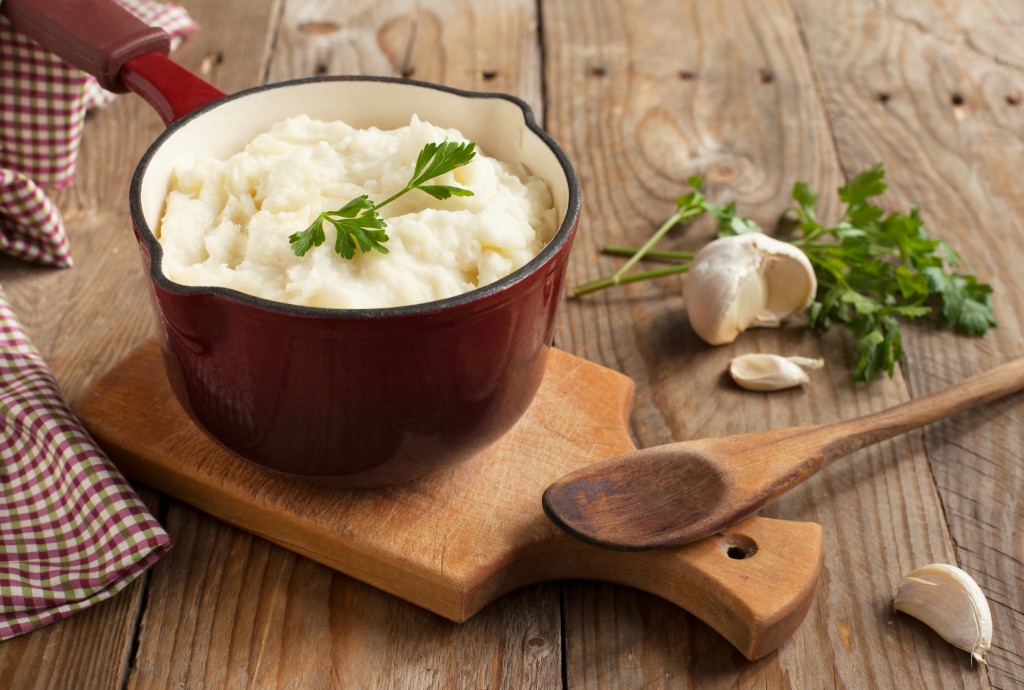 Traditional Mash. The key to the perfect mashed potato is cooking the right variety of potato. Maybe you didn't realize there were different varieties of potatoes, and maybe that's the reason why you haven't yet perfected mashed potatoes! Start your mashed potatoes by using a variety like Yukon Gold or Russet that are best suited for mashing. Once the spuds are cooked through (fork tender), go ahead and mash the heck out of them with butter and cream or milk.
Traditional Mash (Purple Style). Take the nutrition of your traditional white potato mash up a couple of notches by using purple potatoes instead! Purple potatoes will cook up the same as a standard white potato mash, but their nutritional profile is much higher, thanks to that purple color. When you eat purple potatoes, you're getting lots of antioxidants into you.
Sweet Potatoes. We go through a lot of sweet potatoes at my house. While they're still a little high on the starchy side to be overindulging in, they are full of nutrients. I prefer the taste of roasted sweet potatoes to boiled sweet potatoes, so for a delicious sweet potato mash, bake your sweet potatoes in the oven first and then mash butter into them, along with whatever seasonings you like (salt, pepper, cinnamon, etc.).
Faux-tatoes. If you're a hardcore Paleoista, and you're limiting the amounts of carbs in your diet to the extent that you have a zero spud rule, you can still have a mound of creamy, buttery goodness on your Thanksgiving Dinner plate with faux-tatoes! The trick is that you use steamed cauliflower in place of the potatoes. For a decadent faux-tato dish, chop a head of cauliflower into bite sized pieces and steam those florets until you can easily pierce them with a fork. Drain the water off after they're cooked, and pat the cauliflower florets with a clean towel to remove some of the excess moisture. Then, blend with butter, cream cheese, salt and pepper for a very delicious side dish.
—————————
Here's something that will make you smile–it's our Thanksgiving Menu! The menu is yours for FREE! Just click below to get the menu.