By: Leanne Ely
The kiddies are all back to school, and after a summer where the routine was willy nilly at best, here you are facing the rush of homework, piano lessons, laundry and everything else that goes along with the onset of the new school year.
It's going to happen plenty of times where you'll be faced with one of "those nights," where you just feel like you can't seem to get it together.
But let me tell you a little secret:
Dinner does not have to be an event, every single day.
I want to do everything in my power to keep you from turning to food that isn't food. I want to keep you out of the drive-thru. So I'm going to give you five ideas for meals that do not require any sort of recipe when you just can't turn it on, know what I mean? 😉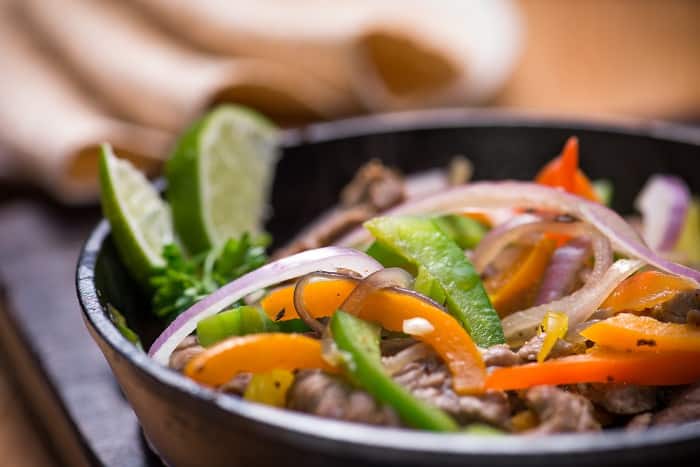 Mindless meals for harried school nights
Burgers. You can't get much more basic than a burger. Bonus points if you prep your burger patties when you get the meat home from the market! Then, you can keep a supply of frozen patties on hand to pull out on busy nights. Keep it simple with your burgers so you can taste the beef. All you really need to add is some salt and pepper, some people like to add in an egg but sometimes I'll shake things up with some garlic, mustard and chopped raw bacon.
Fajitas. A bit of thinly sliced chicken or steak, cooked with onions and peppers in a Mexican-spice blend (try cumin, chili powder and paprika!) is all you need to make a meal of fajitas. Add lime juice and oil olive if you want. Top with sautéed onions and peppers and pop them in a tortilla or use a lettuce cup to lower the carb count.
Eggs. The lifesaver of the food world. If you have eggs, you won't go hungry. Poached eggs and bacon or sausage will make a fine supper. So will an omelet, or a frittata . . . the list goes on.
Chef Salad. I love making salads as meals because they are so healthy, beautiful and filling! I like to use boiled eggs, crisp bacon, creamy avocado, grilled chicken, tomatoes and red onions in my chef salad. Serve it all on a big bowl of greens and some homemade vinaigrette. How easy is that?
Meatloaf. Remember how I said earlier that you can't get much more basic than a burger? Well, you can: meatloaf is more basic than a burger. You don't even have to make patties. Just mix your meat with whatever seasonings you like and put it in a pan. I like to put slices of raw bacon on top because, well, yum.