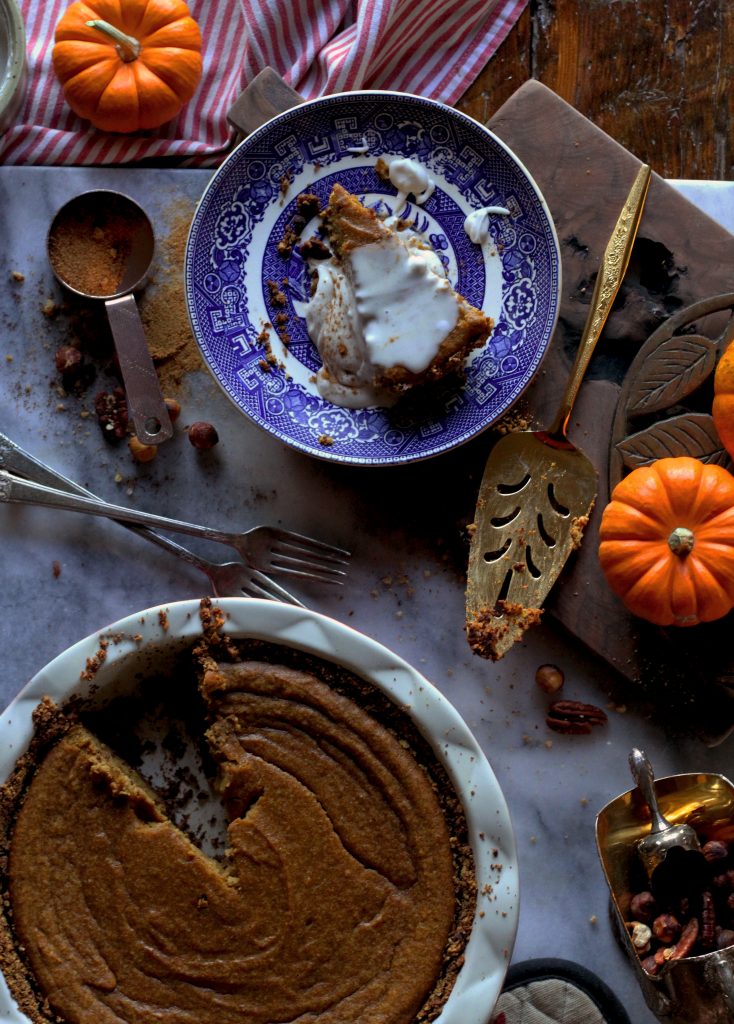 You can't have the holidays without pumpkin EVERYTHING!! But for those of us trying to stay away from dairy, gluten, and refined sugar – the holidays can feel like the 7th circle of hell – running into temptation at every corner!
So after some recipe testing, we finally found a delicious holiday classic that's actually PALEO APPROVED!!! May we present our Paleo Tahini Pumpkin Pie and Maple Cardamom Coconut Whipped Cream:
Paleo Tahini Pumpkin Pie
Ingredients:
For Crust:
3 cups mixed nuts, toasted (we used walnuts, pecans, hazelnuts, and cashews – you don't have to use those, but just make sure you choose some nice softer and buttery types of nuts!)
2 tablespoons coconut sugar
For Filling:
1 (14.5 ounce) can of pumpkin puree (NOT pumpkin pie filling)
1/4 cup tahini
1/2 cup canned full fat coconut milk
3 eggs
1/2 cup coconut sugar
2 generous tablespoons pure maple syrup
1 1/2 teaspoons pure vanilla extract
2 teaspoons cinnamon
1 teaspoon ground ginger
1/2 teaspoon cardamom
1/2 teaspoon nutmeg
1/4 teaspoon ground cloves
Instructions:
Preheat oven to 350 degrees.
In a food processor, grind down toasted nuts. If you do not have a food processor, you can use a rolling pin to crush them (it's easiest when they're still warm after getting toasted). Toss with coconut sugar and then press into a pie dish. It can crumble easily, but it's also buttery enough to stick together well so gently press it up the walls and throughout the bottom of the pie dish evenly.
Put in oven and bake for 10 to 15 minutes, until a darker golden brown, and then remove. Be careful not to burn crust!
Pull out and allow to cool while you make the filling.
In a large bowl, combine all ingredients for filling. Whisk together well until thoroughly combined. Pour into nut crust, and place in the oven. Bake for an hour, or until filling sets and doesn't leave traces on a toothpick.
Remove from oven and allow to cool before serving, maybe whip up the cream…
//
Maple Cardamom Coconut Whipped Cream
Ingredients:
1 (14.5 ounce) can of full fat coconut milk (OR coconut cream, if your store carries it) – if you can't find coconut cream, it's not a big deal, but try to find a full fat coconut milk that's super thick! You can usually tell by shaking the can and if it feels solid, you've got a good one!
3 tablespoons pure maple syrup
1 teaspoon pure vanilla extract
1/2 teaspoon cardamom
a dash of cinnamon (cause you can never have too much!)
Instructions:
In a medium bowl, scoop out coconut milk. If you found a nice thick one, then the water should've separated from the cream! ONLY scoop the cream into the bowl and discard the remaining fluid. Add in all remaining ingredients (syrup through cinnamon) and whisk well until desired consistency!
Serve a huge dollop on top of your Paleo Tahini Pumpkin Pie – or even on top of your coffee! OR both!
Want more delicious Paleo recipes? Subscribe to Dinner Answers today!
Dinner Answers