Cherries are a very special gift that nature bestows on us for a very short period of time each summer. I'm not talking about those gross red dye #5 cherries in the jar, I'm talking about fresh picked real cherries. However, frozen and dried cherries can be had all year long. But when you see them in your grocery or farmers market, buy!
The red pigment in berries is called anthocyanins, an antioxidant that is thought to reduce pain and inflammation. Believe it or not, a lot of athletes use cherries and their juice during training to manage their pain.
High in beta-carotene (more than strawberries or blueberries!), vitamin C, potassium, magnesium, iron, and fiber, these tasty mouthfuls are truly becoming known as a super food and are even good for your skin, hair and nails.
Cherries should be shiny, plump, firm but not hard when you touch them with unbroken skin.
Here's Today's TRICK:
If you go pick your own, take scissors with you so that you can cut the stem off the spur instead of picking them right down to the fruit. The stem will keep them fresher longer.
Here's a TIP:
To store, spread cherries with stems on a cookie sheet in a single layer, freeze, then remove to freezer bag or other airtight container and return to freezer.
And Your RECIPE: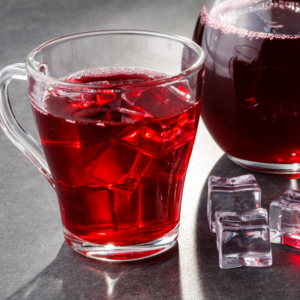 Cherry Iced Tea
Ingredients
4

cups

boiling water

4

green tea bags

1

black tea bag

1/4

cup

sugar

or you can use xylitol

1

cup

tart cherry juice

unsweetened
Instructions
In a quart sized tea pitcher, pour boiling water over tea bags let stand for ten minutes.

Discard tea bags, stir in sugar or xylitol until dissolved then stir in the cherry juice.

Chill for an hour then serve over ice in tea glasses. Garnish with a fresh cherry and a slice of lemon.