By: Leanne Ely
In today's video, we're going to stuff some bell peppers with my tasty meatloaf mix. This is one of my very favorite recipes and it is super simple.
To make my meatloaf mix you will need:
Grass-fed Ground Beef
Half and half
Ketchup
Bread Crumbs (or) Almond Meal (for a gluten-free option)
Eggs
Salt
Pepper
Rice (optional)
Spaghetti or tomato sauce (optional)
Cooking instructions:
Stuff around two tablespoons of meatloaf mix into bell peppers
Bake stuffed peppers at 375-400 degrees for around 40 minutes (depending on how big your bell peppers are)
Watch the video above to not only find out how to make these delicious meatloaf stuffed peppers but I will also show you how to easily get the tops off of bell peppers and a very special trick for how to cook the stuffed peppers so that they don't collapse in the oven!
Super simple and so delicious and tasty!
For more great videos like this, go here to check out all of our YouTube videos!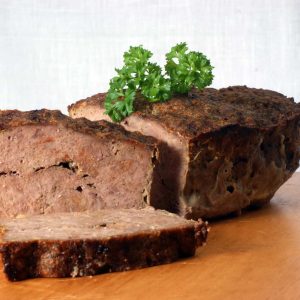 Manic Meatloaf
Ingredients
1

tablespoon

olive oil

1-1/2

cup

chopped onion

1/2

cup

red bell pepper

chopped

1/4

cup

green bell pepper

chopped

2

large cloves

garlic

pressed

2

eggs

beaten

1/2

cup

ketchup

1/2

cup

milk

1

teaspoon

cumin

1/2

teaspoon

nutmeg

1/2

teaspoon

white pepper

Salt and pepper

to taste

2

pounds

ground beef

1/2

pound

sausage

not Italian

3/4

cup

fine bread crumbs
Instructions
In a skillet, heat oil over medium high heat. Add the onion, bell peppers, and garlic. Cook for a few minutes till fragrant and beginning to wilt, then turn on low till wilted, about 10 minutes. Set aside.

In a large mixing bowl, add the meats, and remaining ingredients. Mix well. Add sauteed vegetables and mix well again. Shape into a long oval-ish blimp—resembling a fat loaf of French bread–and bake at 375 degrees in a baking pan, for approximately 45 minutes.
Notes
Serve with garlic mashed potatoes, (generously add some garlic powder when mashing the potatoes) and steamed broccoli. Enjoy!
Want to get weekly menus delivered right to your inbox? Subscribe to Dinner Answers today!