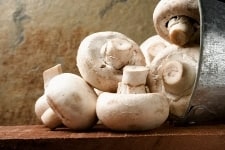 Tips, Tricks & a Recipe
The Delectable Mushroom PLUS a Free Recipe
by Leanne Ely, CNC
Today's focus is on MUSHROOMS.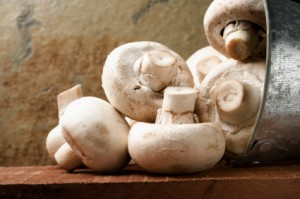 Here's today's TRICK:
Did you know that mushrooms that look "old" are actually more flavorful? Buy them marked down and with a smile on your face, knowing (smugly) that not only have you purchased yourself a good deal, you're getting better flavor!
And here's a TIP:
Don't throw out the stems! Chop them up finely in your food processor, saute them in a little butter (I add garlic) and then freeze. Next time you're making rice, toss them in to make a delicious mushroom pilaf or add those frozen gems to your soup or stews. The point is nothing should go to waste on the delectable 'shroom!
And your RECIPE (from our Low Carb Menus):
Chicken and Artichoke Casserole
Serves 4
20 ounces boneless skinless chicken breast meat, cut in 1″ strips
1/4 cup butter, divided
2 cloves  garlic, pressed
1 cup sliced mushrooms
1 (7-oz.) jar  marinated artichoke hearts, drained
2 tablespoons  flour
1 (14-oz.) can low sodium chicken broth
Preheat oven to 350 degrees. In a skillet over medium heat, brown chicken lightly in 2 tablespoons butter, add the garlic and mushrooms and keep cooking till chicken mixture is smelling very garlicky.
Transfer browned chicken strips to a baking dish, arrange artichoke hearts on top.
In the skillet, melt remaining butter and add the flour, whisking to blend (no lumps!). Add broth and cook until thickened then pour over chicken mixture.
Bake the casserole, uncovered, for about 30 to 45 minutes.
Per Serving: 343 Calories; 16g Fat; 40g Protein; 9g Carbohydrate; 2g Dietary Fiber; 113mg Cholesterol; 575mg Sodium. Exchanges: 0 Grain(Starch); 5 Lean Meat; 1 Vegetable; 3 Fat. Points: 9
LOW CARB SERVING SUGGESTIONS: Steamed broccoli, a big green salad (watch the carb count on your salad dressings. Higher fat dressings usually have lower carb counts)
SERVING SUGGESTIONS: Follow LC Suggestion above and add brown rice.